Smart city kiosk initiatives are becoming more and more common. Every year, localities are updating the popular downtown or uptown areas where most of the foot traffic for a city takes place. City councils and commissioners are getting together to commission research grants to identify smart city initiatives in a way that is useful, meaningful, and exciting for the citizens. What are they looking for specifically? Here are a few things.
1. Sharing Community Information for Travelers
A common question an international traveler likes to ask locals is "what is the ONE thing I should know before visiting this city?" A touch screen kiosk can be a useful tool to answer a specific question. Putting oneself int he perspective of a traveler is an important thought process for any award winning smart city. Digital kiosks that share community information such as local ordinances, events, and current initiatives for the community.
2.Connecting Visitors to the Best of the City
A common issue among travelers and visitors is finding the best a city has to offer. Usually people refer to search engines or websites the rank the best business or restaurants. This may a problem due to the fact that those websites usually give preferential treatment to business that pay for higher rankings. Since digital touch screen kiosks are usually managed by the city or local area, a traveler has a better chance to get recommendations from a group of people who live in the area. This means a traveler could have a more authentic experience from a business or restaurant that is popular with the locals, and not just popular with advertisers.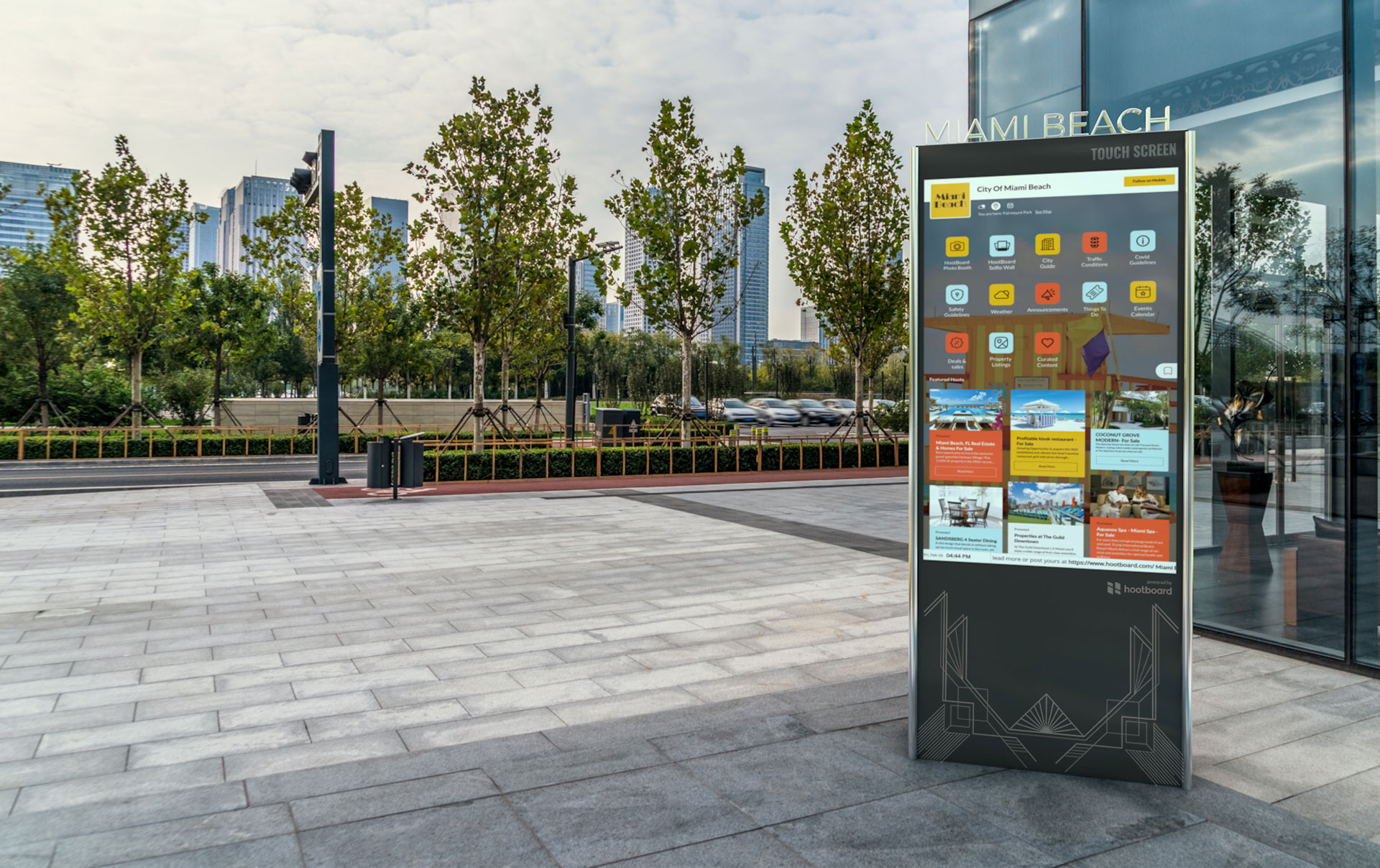 3. Public Safety for Residents and Visitors
Safety is a primary issue for anyone visiting an area. Communicating any weather updates, dangerous moments, or other active criminal situations instantaneously can save many lives. One of the many perks of a touch screen kiosk is the ease and efficiency when updating the content. When you add a local app or touch screen kiosk software, then the ability to communicate this information to people can also transcend into their mobile devices.
4. Transit Information
Any high rated outdoor smart city kiosk could also deliver transit information. With a highly connected area, users will love having the ability to track a specific bus or train. With a touch screen kiosk, this can also work on ones mobile device. This would make the waiting time more predictable, giving users more time to spend in a restaurants, or their homes waiting, instead of a bus stop.
5. Amenities like Wi Fi, Cameras, and Wayfinding
As every generation of users gets more connected, the more we are seeing how people like to use the touch screen experiences. Popular social media apps like tik tok and instagram are giving users a creative ground to test their skills with camera, video recording, and making memories. Having a camera that can be used for group photos, contests, or promotions, create a fantastic opportunity to show people enjoy the city. This helps build a brand identity and is fun for everyone. They also serve a dual purpose of public safety as well. Combine this with amenities of connecting ones device to high speed internet, or having the ability to create an itinerary, enhances the potential for a memorable experience that they will connect to a city.
6. Unique Advertising and Promotions
When your kiosks offers a full hd 1080p resolution, you then have the opportunity to show ads that really pop. There is a unique potential to have a really tall and great looking ad that everyone in the area will likely see when passing the ad roll while walking in a high traffic area.
7. Ticket Sales
A Smart City kiosk in a town with major attractions can really be helpful to people who are in a hurry to get tickets. It can be a theme park, a musical event, a vacation destination, or any number of things that require one convenient area to help move tickets. With QR codes, mobile devices, and even on kiosk printing, cities are finding new ways to sell experiences in areas with significant foot traffic.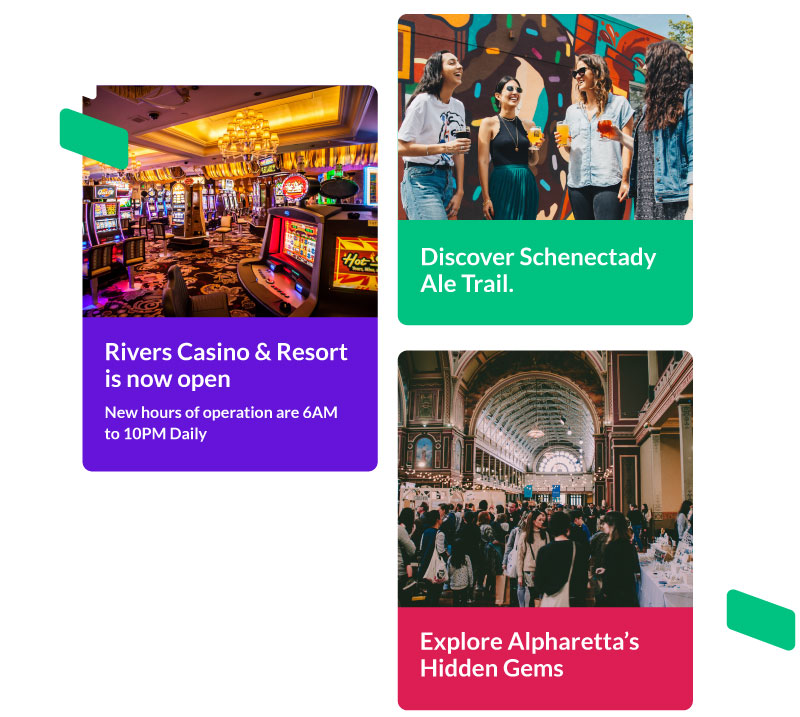 8. Provide Information in Multiple Languages
Smart kiosks can be customized to accommodate many languages. This can be helpful if you have a diverse population in your city. You'll also be able to engage travelers from all over the world and provide them with a convenient way to find out about your city's offerings.
How To Get Started With a Smart Kiosk For My City?
A smart kiosk is a great way to provide information and services to the citizens of your city.
By using a smart kiosk, you can make it easy for people to find the information they need, and you can provide services without having to staff a full-time office.
Here are some tips on how to get started with a smart kiosk for your city.
Step 1. Decide what services you want to offer.
Smart kiosks can offer a variety of services, from providing information about city events to offering online bill pay.
You'll need to decide what services you want to offer before you can start setting up your kiosk.
Step 2. Find a location for your kiosk.
Depending on the services you want to offer, you may need a location that is easily accessible and convenient for people who are visiting your city.
Consider finding a central location in your downtown area, or look for places close to other points of interest, such as tourist attractions or public transportation hubs.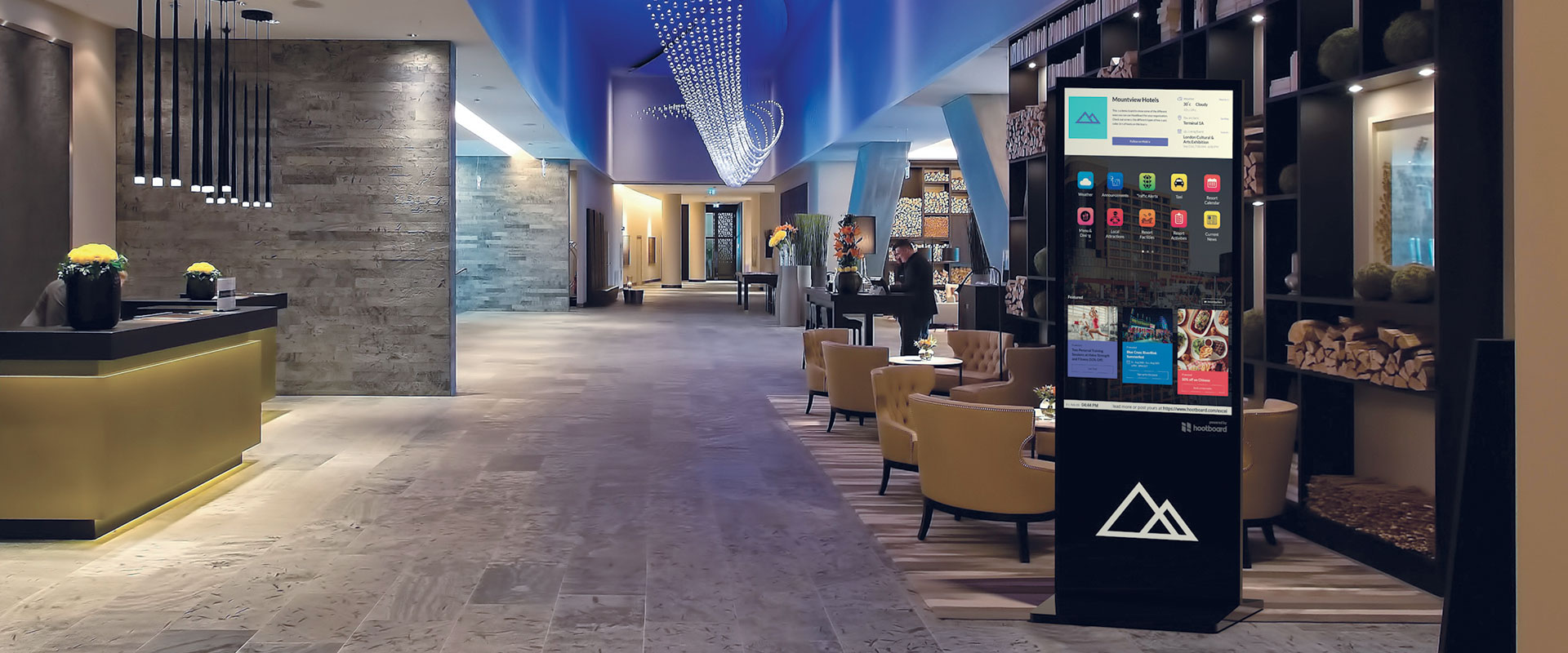 Step 3. Purchase and install your kiosk.
Once you've decided on the location for your kiosk, you'll need to purchase the hardware and software.
HootBoard can help you with this. Schedule a demo and we will be happy to show you our software, available touch screen kiosk products, and more.
Our smart kiosks are designed to be simple to use and highly customizable, making it easy for you to provide the services that your citizens need.
There are many different types of smart kiosks available on the market, so be sure to research the options before making a purchase.
Step 4. Train your staff on how to use the kiosk.
For your kiosk to be effective, you'll need to make sure that your staff knows how to use it. Some kiosks may have built-in training features, or you may need to provide additional training. We can help support you in this.
Step 5. Monitor the usage of your kiosk and tweak it as needed.
Once your smart kiosk is up and running, keep an eye on how it is being used.
If you notice that certain services or information are not being accessed as often as others, use that information to make changes and improve the effectiveness of your kiosk.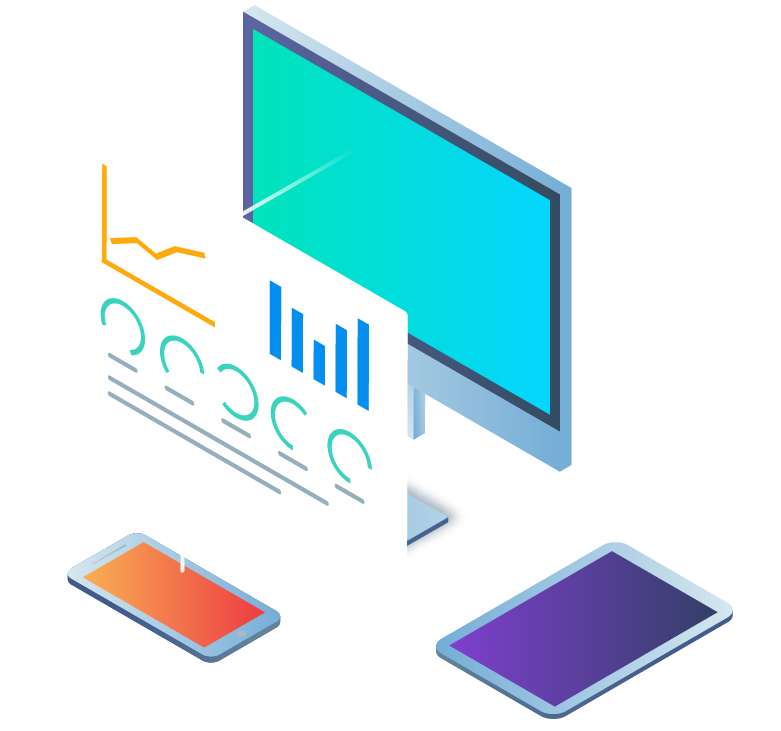 The trend of connecting a city continues to grow. It's not surprise that connecting these emerging Smart Cities with digital touch screen kiosks is a popular choice. For many years, cities haver used kiosks to inform users of popular places to meet up, the best restaurants, or any events in the area.
Contact HootBoard to Learn More about Smart Kiosks
If you're interested in learning more about digital signage software, we invite you to contact HootBoard.
We are a leading provider of smart kiosks and the software that powers them, and we would be happy to answer any questions you have.
We can also provide you with a free demo of our software so that you can see how it works for yourself.
Schedule a Time to Talk