One Communications Platform to Drive Team Engagement
One part employee bulletin board, One part interactive signage, One part information hub and 97 Parts Amazing.
Introducing HootBoard, the one communications platform your workplace will ever need. Join now to start using HootBoard for free.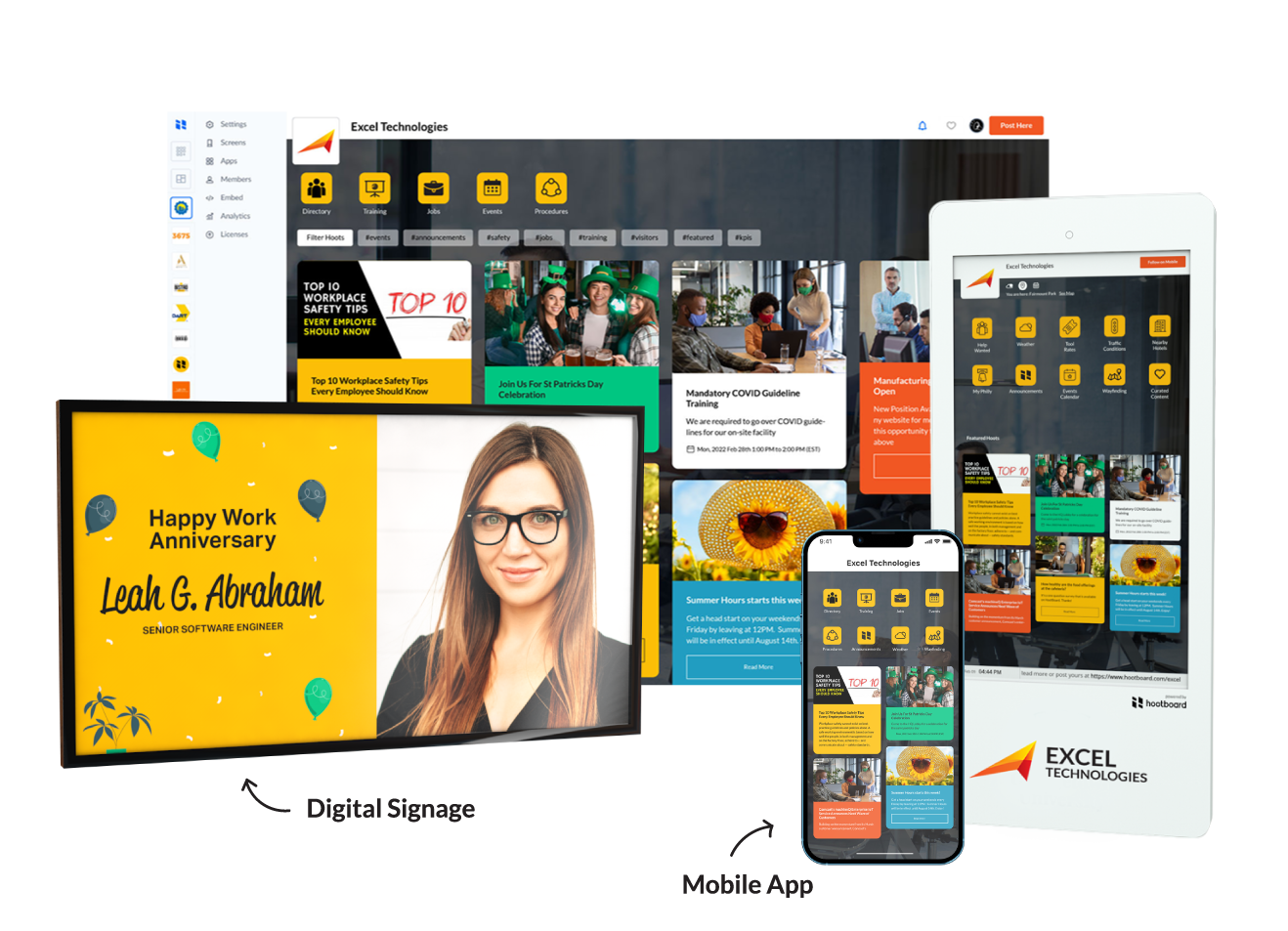 360 Degree Communications Made Dead Simple
Key to good employee communications is simplicity & coverage across all channels. With a simple post-once philosophy, your communications on HootBoard are accessible across all your communications channels.
We mean it.
Local Advertising
Sell advertising space to local businesses to generate revenue from your tourism kiosk. Or utilize the information point to drive footfall for visitor attractions.
Screensaver mode for advertisements
Pop-up and banner ads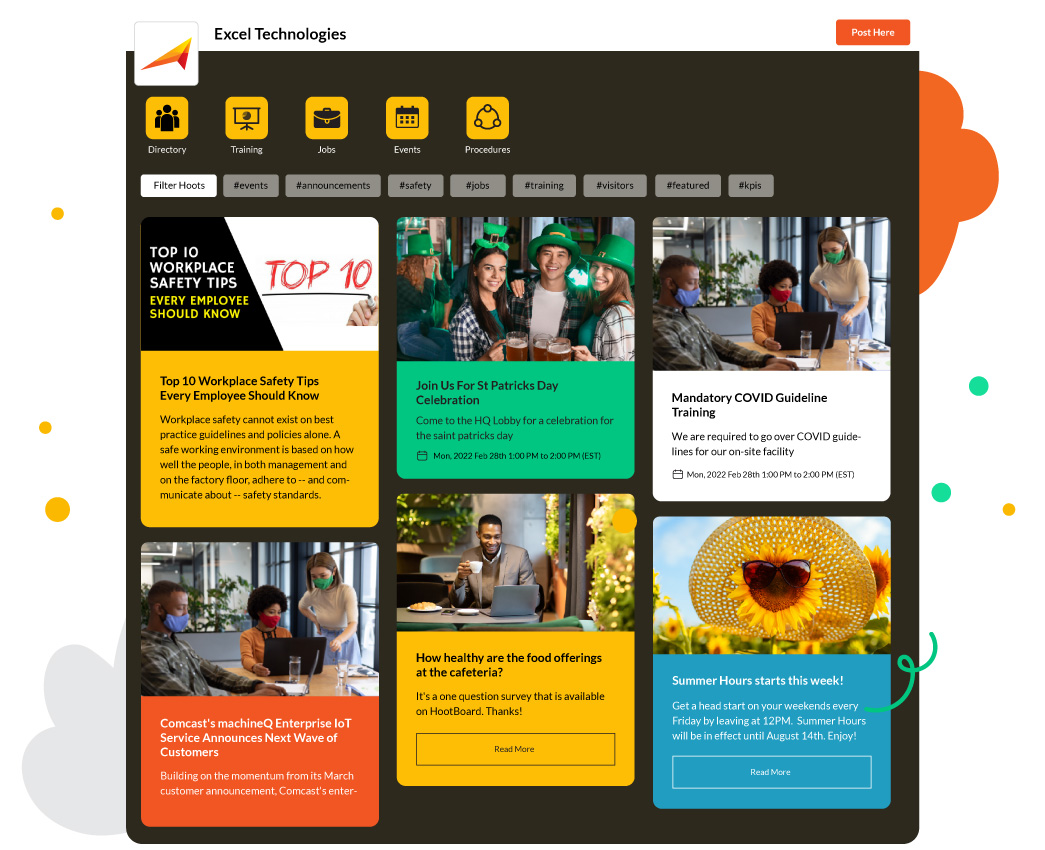 HootBoard Web
HootBoard web provides a beautiful digital bulletin board function for all your communications and provides a simple intuitive way to manage all of it.
HootBoard Embed
HootBoard views such as calendar, content collections can be added to any intranet site for topic specific consumption.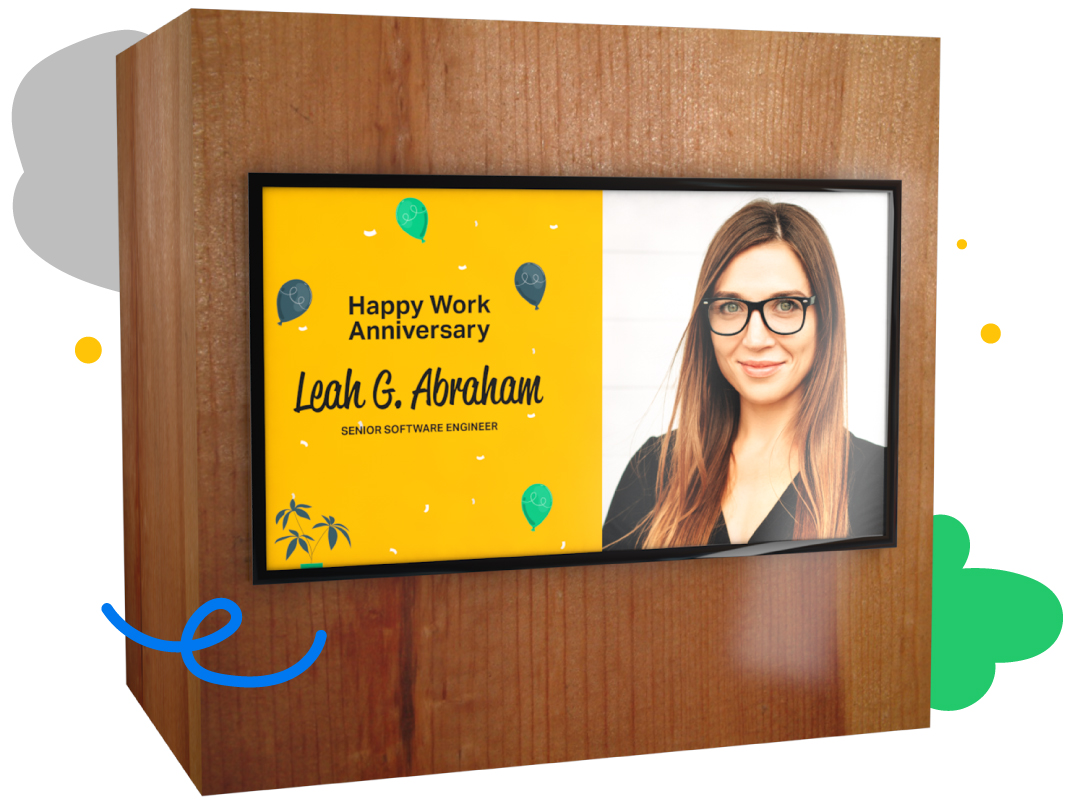 HootBoard Digital Signage
Your company-wide signage will be powered by the same content as your HootBoard. No need to fiddle with another content management system. All you need is a TV enabled by either Amazon Fire TV or a Chrome Box.
HootBoard Interactive Kiosks

Interactive engagement for employees on-premises. Power your factory floors, cafeterias, and lobbies with top-rated communication for both your office and deskless workers.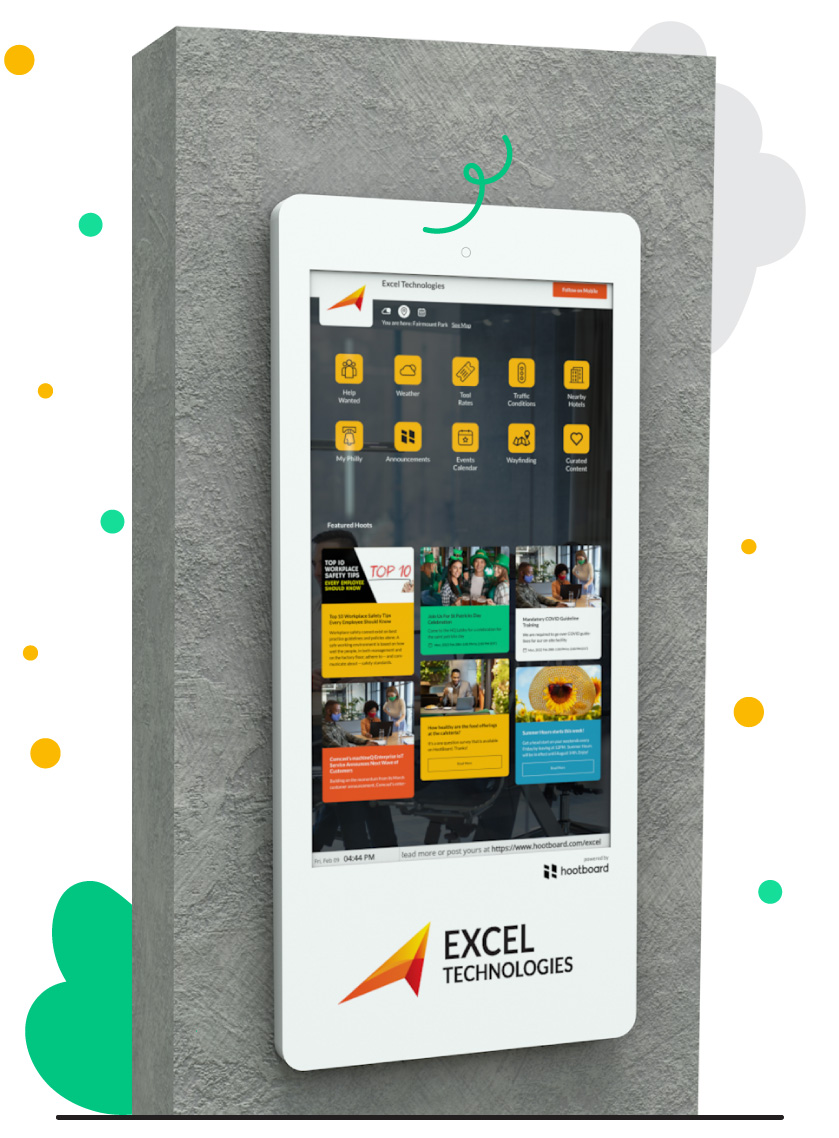 HootBoard Newsletters
Beautiful automated newsletters created from weekly content posted to HootBoard. Save yourself from building the dreaded newsletter. It's already done for you 🙂
Flexibility to Meet Your Unique Needs
Your organization is one of a kind & your communication needs are unlike any other. HootBoard's simplicity and multi-channel approach means you can create a communications solution tailored to your teams.
Here are a few examples.

Deskless Employee Communications
HootBoard Kiosks provides an information hub complete with company & team announcements, safety information, and even a selfie app for fun
Mobile Team Members
Your employees on the go have a different method to consume your communications. They was quick easy access on their mobile device which HootBoard Mobile provides. They receive notifications for key communications and are reminded of key events & milestones.
Remote Employees

Remote employees can pull up HootBoard on web or on mobile devices. Additionally, HootBoard newsletters are a perfect way to reinforce your messaging and drive engagement.
Sales Presentations & Trade Shows
Apart from internal communications, sales teams love to showcase company products using HootBoard kiosks at Tradeshows. HootBoard provides a natural way to organize products, strike conversations and capture leads.
Most Loved Features on HootBoard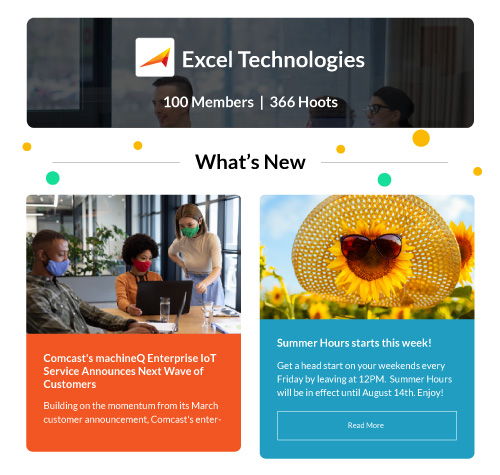 Beautiful Newsletters

Your employees love a nice formed newsletter. But that doesn't mean you have to be stuck with creating one. Simply post good content to your HootBoard and a daily & a weekly newsletter will be automatically sent to your team.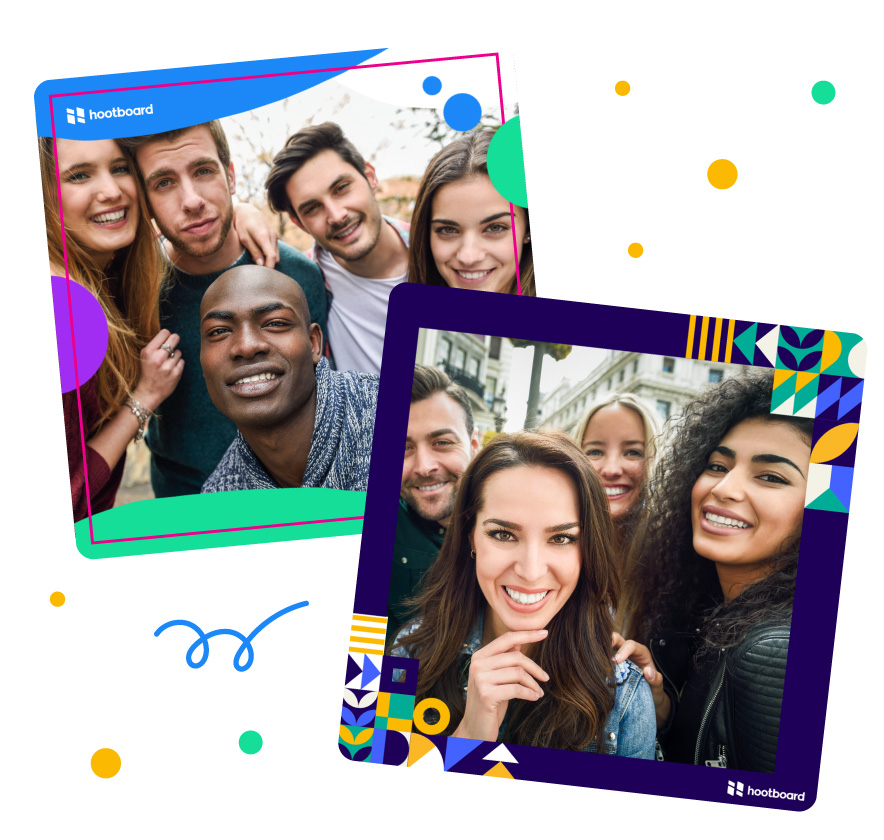 Kiosk Photobooth App

People love photos. And they love it even more when it's a keepsake. Whether your employees are celebrating their work anniversaries, or a major launch, or just in a mood to relax. There's always a reason to visit the Photobooth.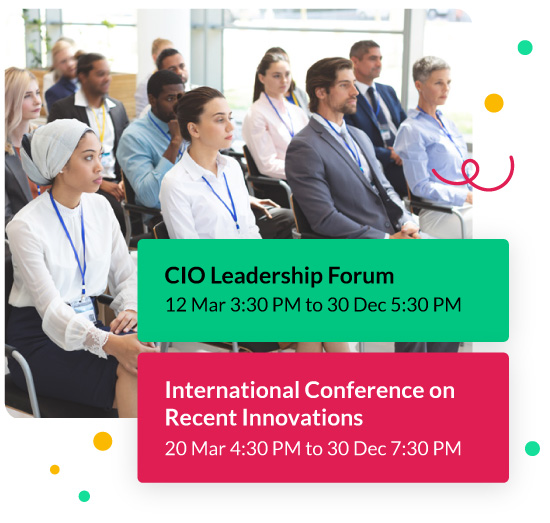 Events Calendar
Getting a quick glance of what's happening within the company with town-halls and other events means staying in the know. These are one of the oldest tools for employee engagement and they still work.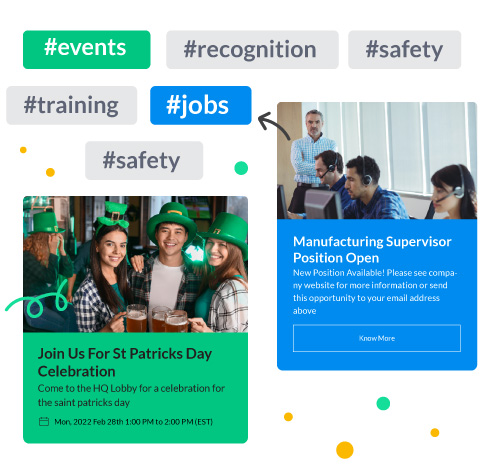 Collection Apps
#Collections On HootBoard organize content. Collection apps allow administrators to setup apps that pull content from a specific collection. It's a dead simple way to organize content that both administrators & users love.
Less Chatter, More Clear
HootBoard is not another employee social newsfeed. In fact it's not a news feed at all.
HR managers and Communications heads can setup policies around how the content is organized, what is important and needs to be highlighted, and who gets access to post.
With HootBoard you will always maintain control on what gets posted, by whom and when. Period.