The Bulletin Board of the Future is Here
Ditch whiteboards & corkboards and streamline your communication with an engaging information touch screen kiosk.
Explore HootBoard Products
For organizations that prefer a drop shipped turnkey solution with free 3 year remote support.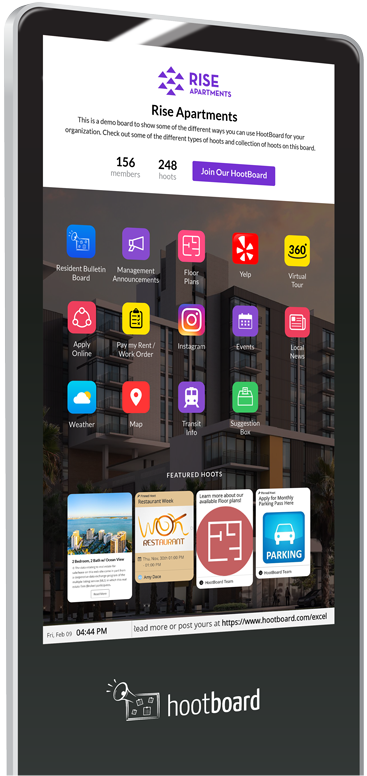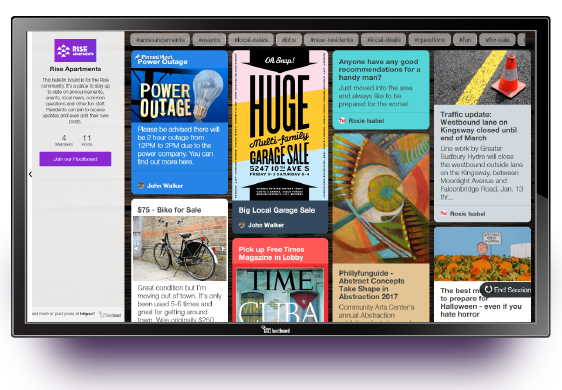 Air
Our Air product line is a multi-touch HD LCD screen whose sleek flat design integrates seamlessly with your decor. Multiple sizes give you endless options to deploy in different locations.
Variety of Posts
Events, announcements, questions, videos, documents and more can be added remotely to your HootBoard in under a minute.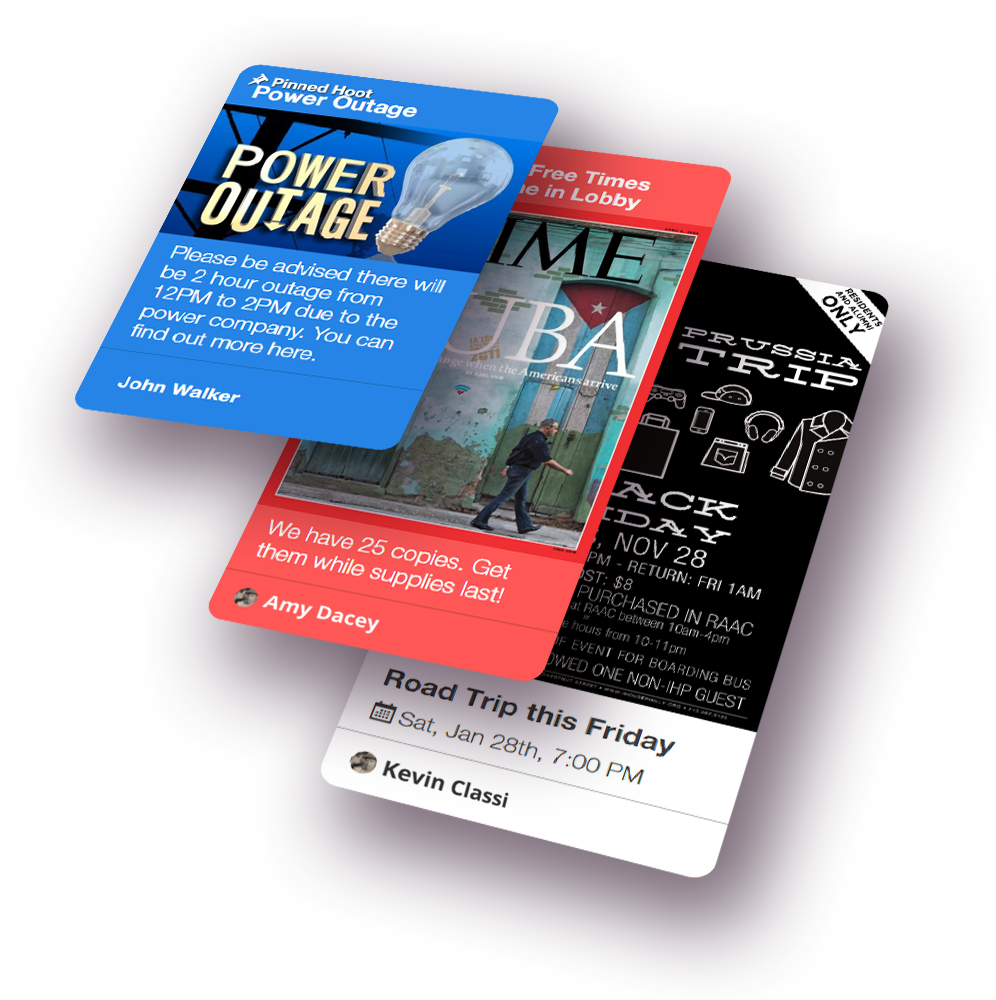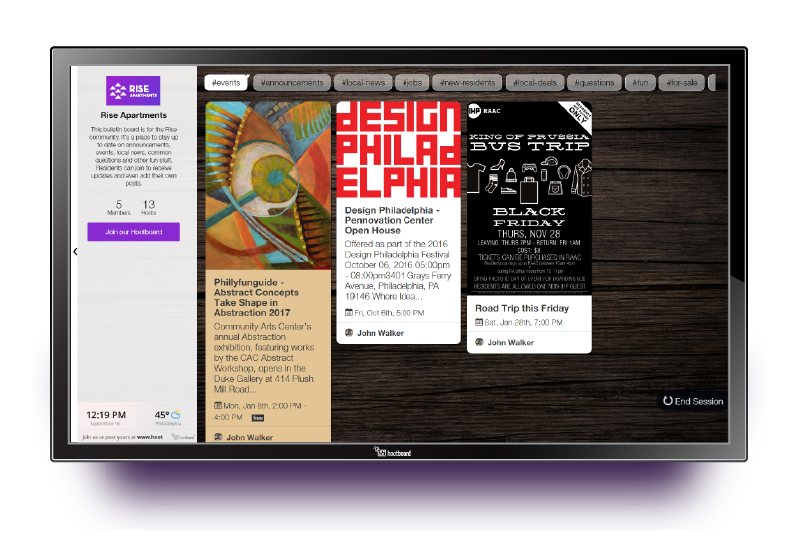 Generate Revenue with Ads
The kiosk can pay for itself with its ad space feature. Partner with local businesses or anyone looking to promote a message.
Access Content Later On
Anyone interacting can send themselves links to individual posts or the board for future viewing by entering their email or mobile number.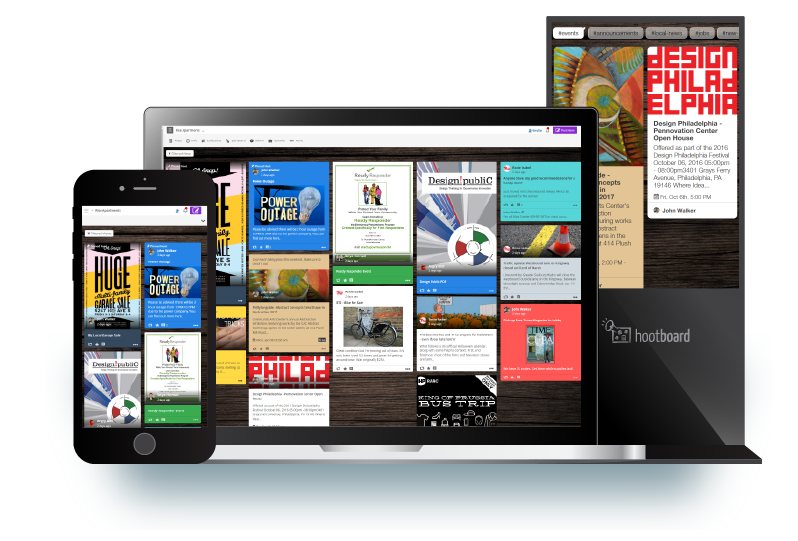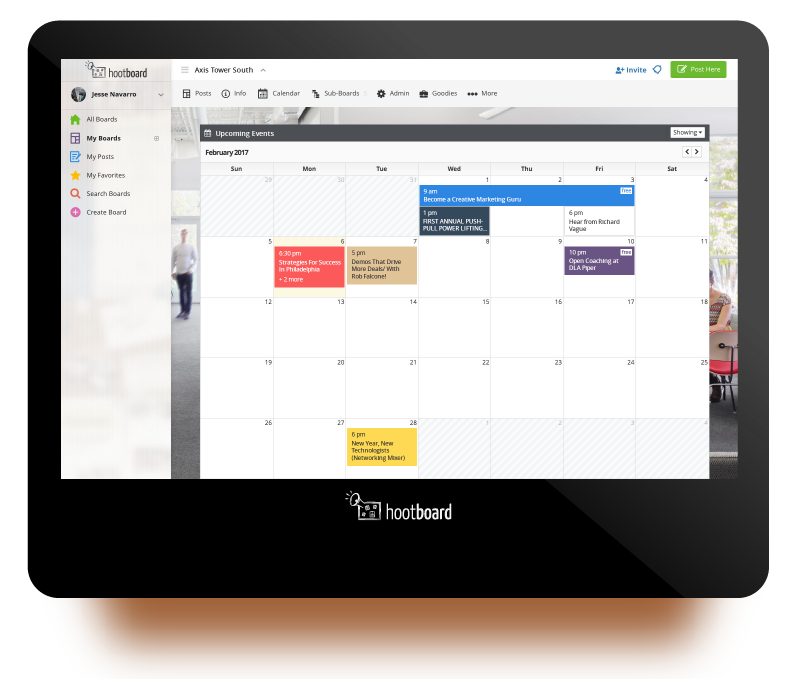 Go further with Integrations
Use our connectors to integrate with other software in your workflow or utilize our API for custom solutions.

External Pages
If you add links to external pages like polls, forms, articles, etc it will open in a contained browser for easy viewing.

Open Up to Community Posts
Allow your community to post. If tighter security is needed, you can decide to pre-approve posts.

Analytics
See how many interactions are on your board, the average session duration and which posts are the most popular.

Manage from the Cloud
Each individual screen can be managed to show certain content. Add, edit or delete posts from any device.

Filter through Content
Create collections of #tags so anyone can easily navigate through content on your board with the tap of a finger.

Social Integration
Integrate your board with social accounts like Twitter for automated posting.

Easy Setup
Get setup in under 5 minutes with plug and play setup. Remote support included.

Community Calendar
Add events to your board and we'll automatically add them to a calendar and highlight upcoming events.