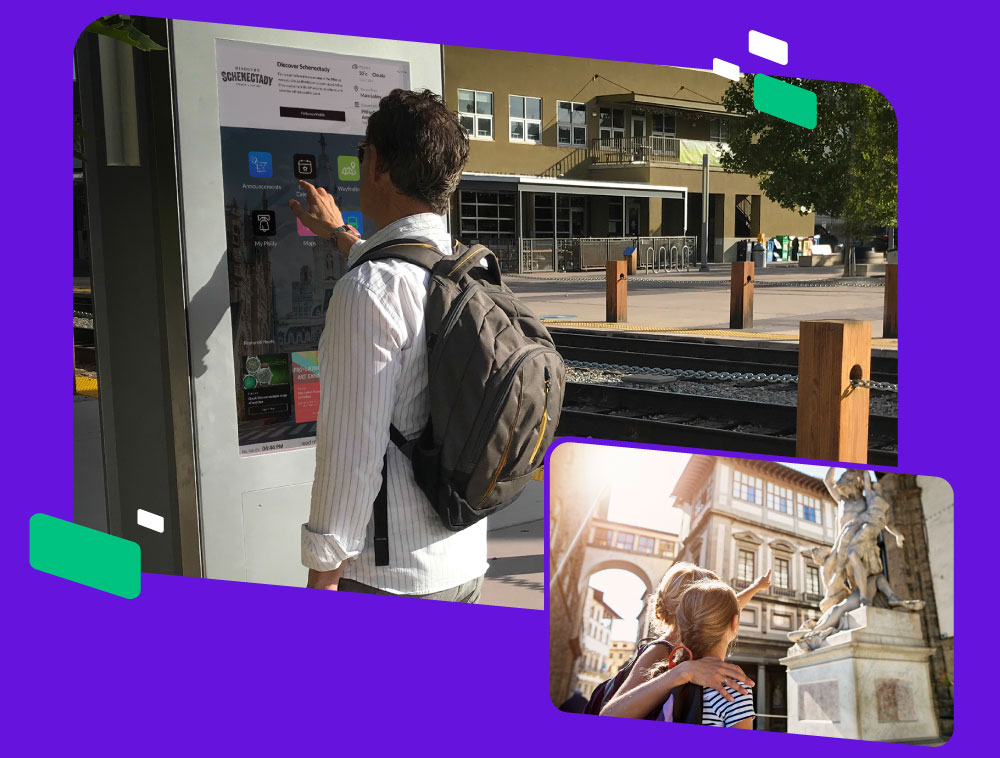 HootBoard's Interactive Tourism Kiosks
Interactive kiosks are a great way to engage the visitors at your destination. They offer information that is quick and easy to access.
Travel and Tourism
We all know the previous year has been a challenge for the travel and tourism industry. That's why we believe when the situation becomes safer, then we will see a significant surge of travelers. People will want to make up for lost time! That's why we think now is a great time to level-up your destination with a touch screen interactive kiosk.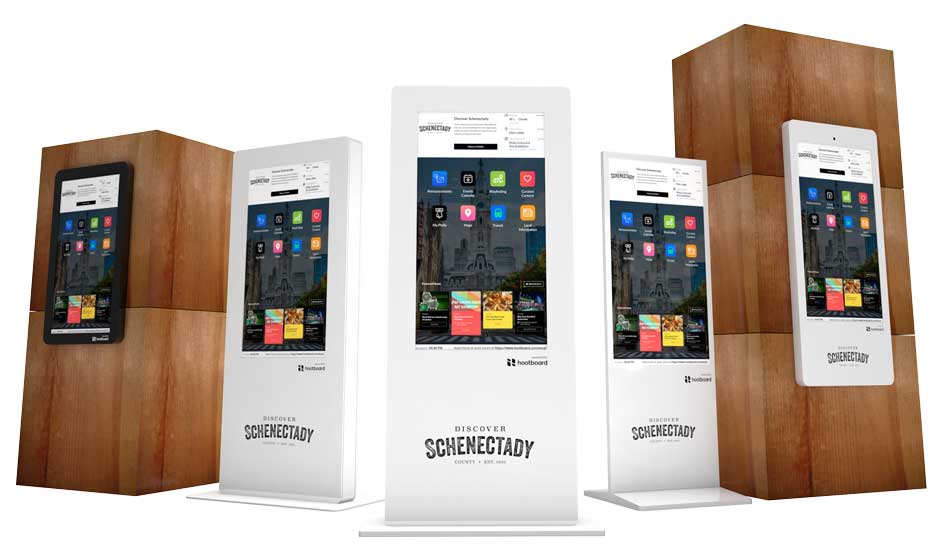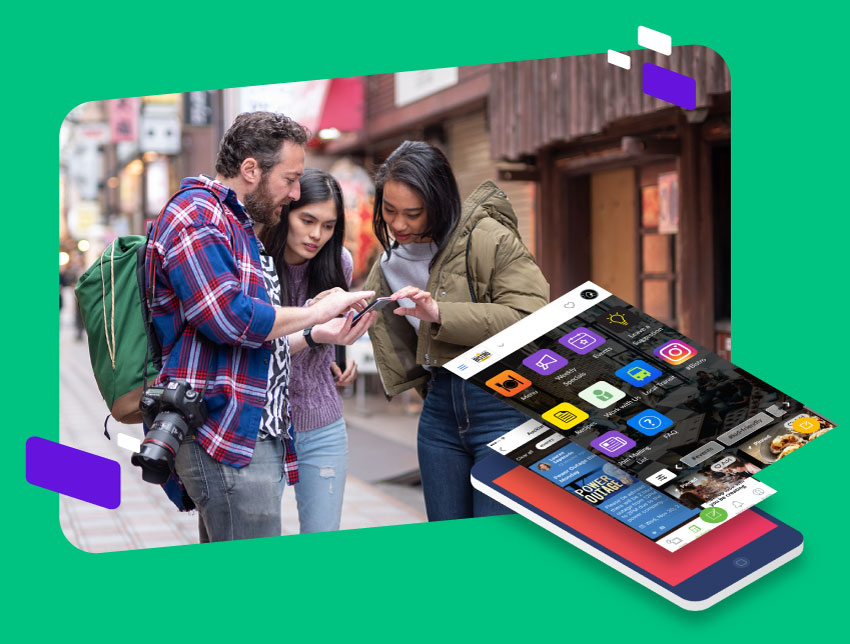 Interactive Information
Your visitor will love interacting with conveniently organized content just for them. They'll appreciate the accessibility and mobile app that accompanies HootBoard's digital touch screen kiosk, so they'll always be close to the most updated information possible. They'll be able to save their favorite events, identify locally preferred restaurants, and much more.
Your Authority Controls the Message
Are you frustrated with websites that aren't familiar with your area making preferred recommendations to restaurants and things to do? Take back control with HootBoard. No longer will other websites or apps selling the restaurant choices to the highest bidder. We want people who know the area to make the best recommendations. This means visitors will have a more authentic experience, and will be more likely to return again.
What support or maintenance is required? Who fixes the kiosk if it breaks?
HootBoard kiosks are built to need very little support or maintenance. They come outfitted with an internal censor to detect if the kiosk has gone offline, been tipped, etc. so you will be alerted if there are any issues that need to be addressed. When an issue occurs, you will be responsible for addressing it first but as a HootBoard customer, we are here to support you. We provide remote support for the hardware and we also provide software support 24 hours a day, Monday thru Friday.  For maintenance there is minimal maintenance aside from cleaning the screen weekly.
 Our kiosks come with a one-year warranty that covers any damage or issues that occur and your software subscription comes with built-in support for as long as you're a customer of HootBoard. We value our relationship with our customers so of course will work with you on any issues that arise and our hardware partners also offer support on any issues that arise with the kiosks.
We do offer an extended warranty that you can purchase for an additional cost of $600 per year for up to an additional three years and we recommend that you consider contacting your insurance company about getting the kiosks added to any policy that you currently have to protect against unforeseen damage.
How durable are your outdoor kiosks?
The HootBoard Outdoor Glide is built to withstand both the elements and high traffic use that comes with being an outdoor kiosk. The kiosk is outfitted with an outer shell that is both waterproof and dustproof and comes with a double layer outer shell to protect the touchscreen itself from vandals. The Outdoor Glide is permanently installed through a poured concrete base and secured with screws/bolts and is a locked case to ensure safety and protection. There is an additional protective layer in the form of a high-penetrating, 5-8mm tempered glass with an anti-wear texture meant for outdoor use. The Outdoor Glide is thoroughly tested against inclement weather (-14°F up to 122°F) and against high use but of course we know that you can't predict what might happen so we do recommend insurance.
Is the kiosk weatherproof?
The HootBoard Outdoor Glide kiosk is thoroughly tested against inclement weather and can withstand temperatures ranging from -14°F up to 122°F. The kiosk comes with a protective layer of high-penetrating, 5-8mm tempered glass with an anti-wear texture meant for outdoor use and an outer shell that is both waterproof and dustproof. Though we expect for the kiosk to withstand weather conditions that come along with extreme weather, we also recommend insuring your kiosks against extreme weather and acts of God just to be safe.
What else works with your kiosk? Can I get an add-on printer?
We have over 1,000 integrations that are possible via third party partners and our kiosks also work with many different types of peripherals like cameras, printers and card readers. We also have a peripherals API that can help accommodate other solutions. Can you tell me a little bit about what you are looking to do?
How do we know this works? What other customers do you have?
We have worked with 100s of other organizations in other industries and they range from Fortune 500 companies like GE to education and our goal is to make kiosks simple and help you provide better visitor experiences.  We are just moving into the travel space and have our first few deployments underway at visitor centers, convention centers and airports. We are currently working to build solutions at a few DMOs like Discover Lehigh, Alpharetta GA, Discover Saratoga, etc.
Easy-to-Use Content Management System
Our content management system is very easy to use. If you can post on popular social media, then you can use this content management system. This means you will spend less time learning a new system, and more time executing a content strategy for your area.
Digital Signage Options
Request information today to learn about the different HootBoard options. Whether you need a double-sided touch screen kiosk, wall-mounted visuals with a static message, or a free standing floor model, we believe we have the right choice for you.