Smart Kiosks for
Smart Cities
A next-generation kiosk technology that upgrades smart cities by transforming city communication, navigation, and wayfinding.
A Next-Generation Kiosk Technology to Improve Lives in Cities.
Interactive digital kiosks are ideal for sharing community information, travel, weather details, wayfinding, advertising, entertainment, and more. Smart city kiosks allow visitors and residents to engage with their surrounding area in a seamless, digital context. It is designed to be functional and approachable, careful thought is given to the end-user experience to ensure that smart city kiosks are easy-to-use and practical, as well as aesthetically pleasing and an enhancement to their immediate environments.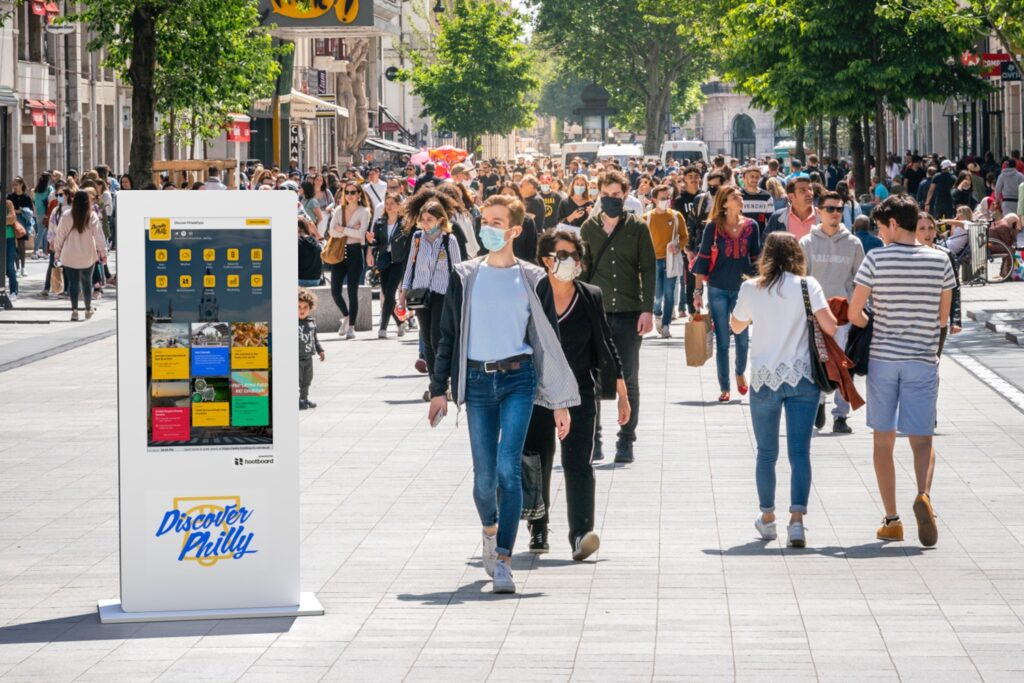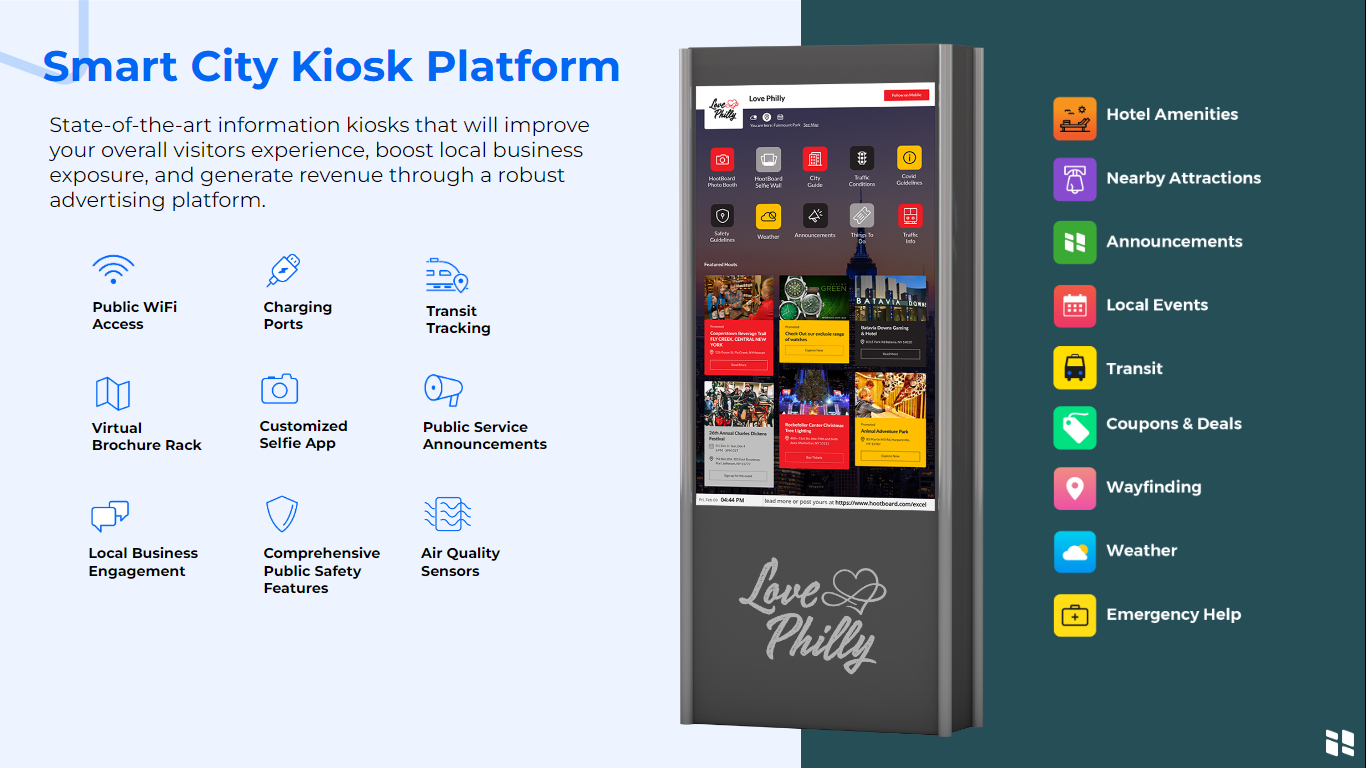 Get the Right Apps and Message Where your Visitors Are
You control the message and can guide your visitors to the preferred businesses and experiences in your area.  Thanks to the HootBoard technology, HootBoard based kiosks can be deployed without any custom development and content can be managed in seconds, even from your mobile phone.
Dependable All Weather Solution
This outdoor touch kiosk is sunlight readable and can withstand hot and cold temperatures. Its interior cooling system enables maximum exposure potential for high traffic areas.
Outdoor Digital Signage that Integrates with Apps
How do you wish to use HootBoard?
By partnering with us, we'll be able to guide you and recommend the appropriate support for your screen. Be it an Amazon FireTV, or a Chrome Box. This will help you address the issues you wish to find solutions to. No matter what your goal is, be it enhancing the metro experience or giving visitors walking routes to a famous hotspot, or a touch point to find what they want nearby, we can recommend the right software for you.
Ongoing Customer and Technical Support
When you partner with HootBoard, you not only get a modern digital kiosk, you also get access to some of the best customer and technical services. We have great reviews! We look forward to earning a chance to partner with you and create a new marketing avenue that serves you and your community.
Frequently Asked Questions
What is the hottest temperature the outdoor digital kiosk can handle?
HootBoard is able to withstand temperatures up to 120 degree Fahrenheit. This means you'll be able to provide great communication services that are dependable in our hot zones.
Can a Smart Kiosk Generate Revenue? 

Yes, you can drive extra revenue for your smart city through promoted content, business listings, and relevant ad placements.
What kind of Apps Can be Used?
 There are many types of familiar apps that can be used on the kiosk. The most popular types of apps are: city guides, selfie cameras, transit information, safety, and restaurant guides to name a few.
Can the smart kiosk function in direct sunlight?
Absolutely. Our smart kiosks are designed to withstand various environmental conditions, including direct sunlight. They come with high-brightness screens that ensure clear visibility even in bright sunlight.
How can a national media company benefit from your smart kiosk?
Yes, they can benefit from our smart kiosks. They provide an interactive and engaging way to disseminate information or content, drive advertising revenue, and gather valuable audience data. Plus, they can be updated remotely and in real-time, making it possible to deliver timely and relevant content to audiences across the country.
How does a smart kiosk differ from static signage?
Unlike static signage, a smart kiosk is interactive and dynamic. It can display changing content, respond to user input, and even offer personalized experiences based on user behavior. This makes it a far more flexible and engaging solution than traditional static signage.
Multiple Ways to use HootBoard

's Smart City Kiosks
Here's some of the features departments and companies can utilize to keep employees in the loop.

Touch Screens
A new, engaging way to communicate in areas like a break room or lobby.

Digital Signage
With strategically placed TVs enabled by Amazon Fire TV or a Chrome Box, you can update content in real-time with the content that is added to your board via mobile or web.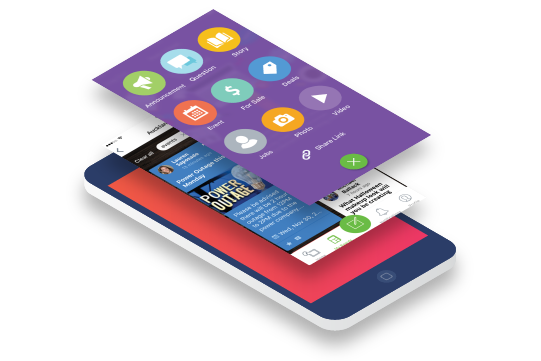 Mobile Apps
Employees are mobile and so should you. Keep them up to date with notifications.

Website Integration
Add HootBoard to your intranet, access at hootboard.com or take the integration further with our API.

Company Calendar
Events are automatically added to a central calendar view for easy access.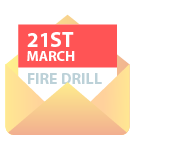 Newsletters
Daily Digests and weekly newsletters are auto-generated from the content that has been added on your board. Event reminders done automatically.

Analytics
Track engagement on your board and posts by digging into the data.

Connectors
Integrate HootBoard with existing tools and workflows to automatically add or export content from HootBoard.