Table of Contents
What is Wayfinding with Interactive Digital Signage and how does it work?
Wayfinding interactive digital signage is a hybrid of physical and digital solutions. By combining the ease of use that many people are used to using on their mobile devices with large-scale displays, it can be an effective way to guide visitors or employees throughout the space. 
The main purpose of wayfinding interactive signage is to act as an information kiosk that directs individuals where they need to go. They are similar to staff members stationed at each point of interest but cost much less than hiring employees for each location. The content to update the kiosk is web based, so you can access it from anywhere with a reliable internet connection
Wayfinding interactive digital signs use the latest technology in kiosks and high-resolution touch screens to be very versatile. The signs can also be managed remotely which is useful if the company changes locations regularly. To solve the problem of more flexibility in locating oneself within a large area or building, many companies are looking into interactive touch screen kiosks. These are available in App form for mobile devices, which reduces how much space is required and is easy to keep updated.
Current Popular Types of Wayfinding Signage
Brochures and maps are a current type of wayfinding system for employee engagement at large-scale businesses and areas is a paper-based system with small maps on the wall or a list of company locations. These are not very user-friendly to tourists unfamiliar with the area.
Staff members who will be stationed at each destination to help direct people where they need to go.
Wayfinding maps like large boards with numbers on them, which correspond to locations of where employees or customers are located. People can check-in when they arrive at their destination by calling the number on the board.
Stand-alone kiosks or bulletin boards with a large image of the downtown area. These can sometimes be outdated since businesses come and go as the market dictates.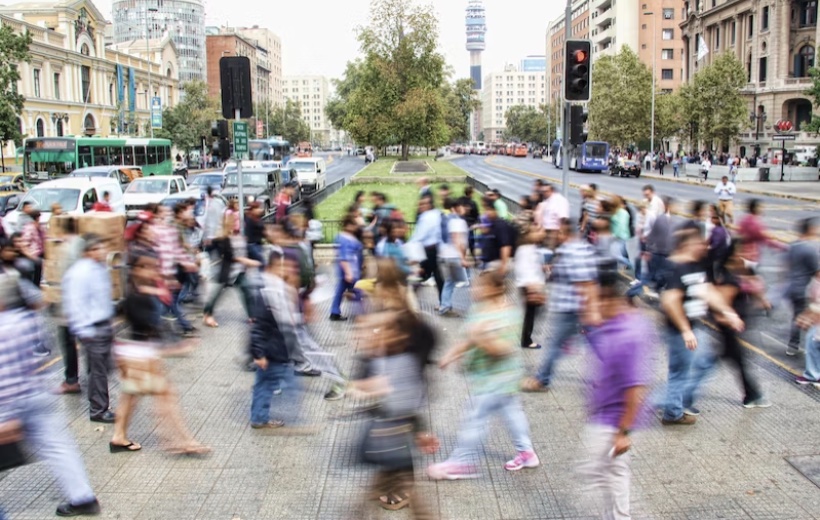 What areas can digital wayfinding be valuable?
Organizations can set up customized digital signage and wayfinding tools to show relevant information depending on the business or area, such as restaurant menus and entertainment schedules. These are updated regularly like any informational kiosk would be, but offer a more dynamic experience. With a digital wayfinding system, you can expect a better experience that will serve your traffic better.
Where can one deploy digital interactive wayfinding?
There are many different places that interactive digital kiosks for wayfinding can be deployed. The main factors in where they should be used is the size of the space, the floor plans, and how densely populated it will be at certain times.
Outdoor spaces

– Busy downtown areas usually have people walking around outdoors, so having directional signage to help them find their destination is a great way to make sure they enjoy themselves.

Businesses

– Businesses can use digital signage for their lobby or entry areas to help individuals find the right room, provide them with company information like phone numbers and websites, and allow them to contact employees if they need any help.

Conferences and corporate events

– These customers want to have a good experience, so providing them with a way to find the right location and keep track of their schedule is valuable.

They can help create a more engaging event for attendees by directing them to business partners or other relevant booths that will provide useful information for their current interests.

Airports

– With large amounts of people coming in and out of the airport daily, individuals can get lost trying to find their connections or luggage.  Deploying interactive digital kiosks for wayfinding can provide a better experience and help individuals find their destination.

Museums and entertainment centers

– By providing information on the building's layout and different exhibits, visitors will have an easier time finding what they want to see. As well as navigation, people coming out of shows or exhibits may need to find the nearest restaurant or bar, so digital wayfinding can help them do that as well.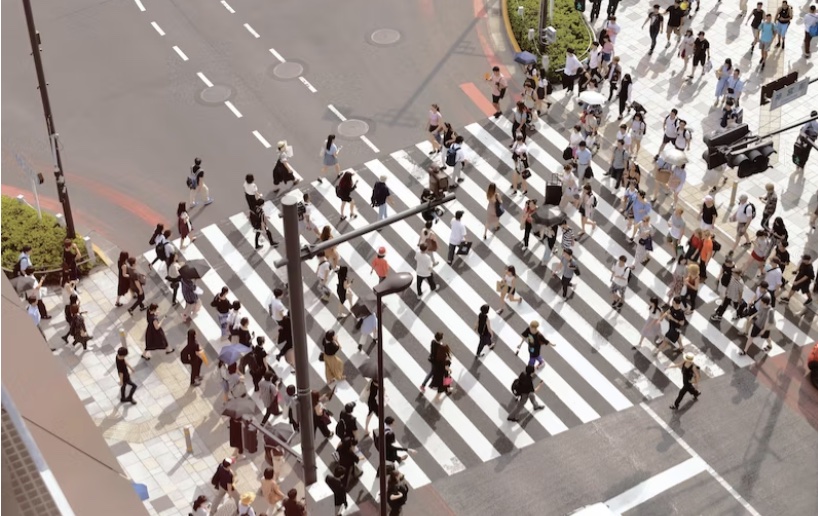 How can you use Wayfinding digital signage to increase your business' bottom line?
Increase foot traffic – Individuals are looking for places to go that they will not only enjoy but will also help them fill their time. Providing interactive digital signage with entertainment schedules or other information can be a great resource for these individuals.
Since people will have more options on where they want to go, your business can see an increase in customers from those places.
Increase brand visibility – Having a way to direct people to your establishment as well as provide them with information about it is a great opportunity to increase brand awareness. Digital signage can give your company an advantage by having a unique kiosk design that makes it stand out from the other business around you, especially if you have something interesting going on that people will want to know about.
Budget-friendly – With the proper information, creating your digital kiosk for wayfinding is much cheaper than hiring an employee to be available at all times for customers' questions, and don't forget about benefits or a paycheck! You can cut down on labor costs while still having a better experience.
Creating a personalized informational solution is the smart way to future-proof your business against changing trends and demands of visitors. By working with innovative designers, you'll have technology at your fingertips so you'll never get caught off guard again.
Overall it would seem that this area has been left behind in terms of innovation when it comes to interactive touch screen kiosks but what we see here from SmartSignage is that any place that needs to be navigated by customers through doorways, hallways, and even staircases while directing them to specific services like toilets or exit doors. Thus it would make sense for airports, museums, and entertainment venues such as cinemas, stadiums, and the like which host a large number of people daily; but also enterprises with multiple locations can use digital wayfinding signs in their lobbies or entryway areas to help individuals find the right room or contact employees if they need any help.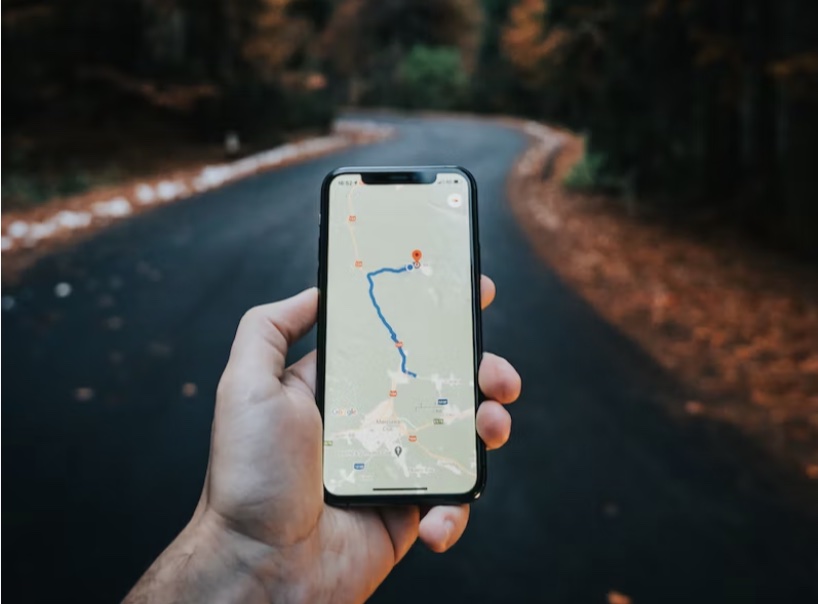 The Benefits of Digital Wayfinding digital signage that will help direct traffic in your downtown area
Tourists need to be able to find areas downtown easily, especially if they will be attending an event or meeting that requires them to travel nearby. Digital wayfinding signage makes it easier for these individuals to get around by using maps and simple instructions.
By organizing the different attractions like natural landmarks, historic points of interest, cultural venues, and educational establishments together on one map; customers can make informed decisions about where they want to go without having to ask for directions each time they want to visit a new location. This will help reduce confusion and will also encourage repeat business since tourists are more likely to come back if their experience was positive. Wayfinding also encourages people who live here permanently to become familiar with the city's; downtown attractions.
However, this isn't just about the tourist season. People who live in your city are always looking for things to do, places to go, or information that will enhance their experience in any way. This is why digital wayfinding signs are not only useful during major events but also during regular business hours as well since people can still use them to see what's happening around town when they have to take time off from work or school.
Digital Wayfinding is easy to implement by using innovative technology that improves communication between visitors and local businesses; while creating a positive customer experience because it gives visitors an option on where to spend their money while encouraging employees to provide better service. It's effective because you don't need people behind.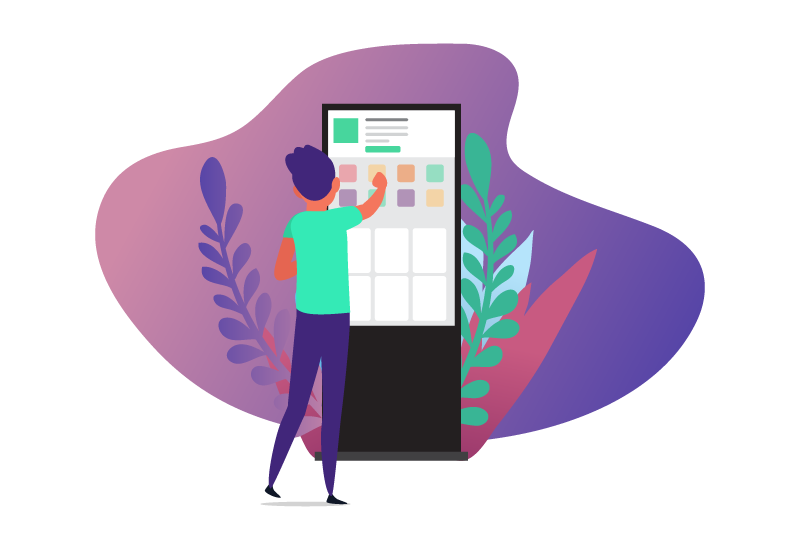 Why you should Use Digital Kiosks as a wayfinding system
Everyday people move around in an unfamiliar environment. Wayfinding is the system of designing and deploying signs to help them find their way. Wayfinding signage can be as small as a hotel room number on a door or as large as the massive screen at the airport.
Digital wayfinding kiosks bring maps, directions, and contact information directly to your customers – no smartphone required. It's effective because you don't need many people (or sometimes any) to be there to help. It all works with just one person who updates the content. Visitors can get their directions through touch screen options on top of digital signage. It can look sleek and advanced as determined by how much effort you want to put into the presentation.
Digital wayfinding is all about providing solutions to the visitor's dilemma of not knowing directions around a new environment.
In addition, It is also effective because it gives visitors an option on where to spend their money while encouraging employees to provide better service by giving them a simple and easy-to-use solution that can be accessed even before someone enters the store.
Essentially, digital wayfinding makes every individual's experience easier and more efficient. The system also allows businesses to have more qualified potential customers as they walk in through its doors with no difficulty finding their location or contacting the business if they need any help.
With digital signage, you want to make sure you are communicating something meaningful at each site; make sure your message is consistent across the different media.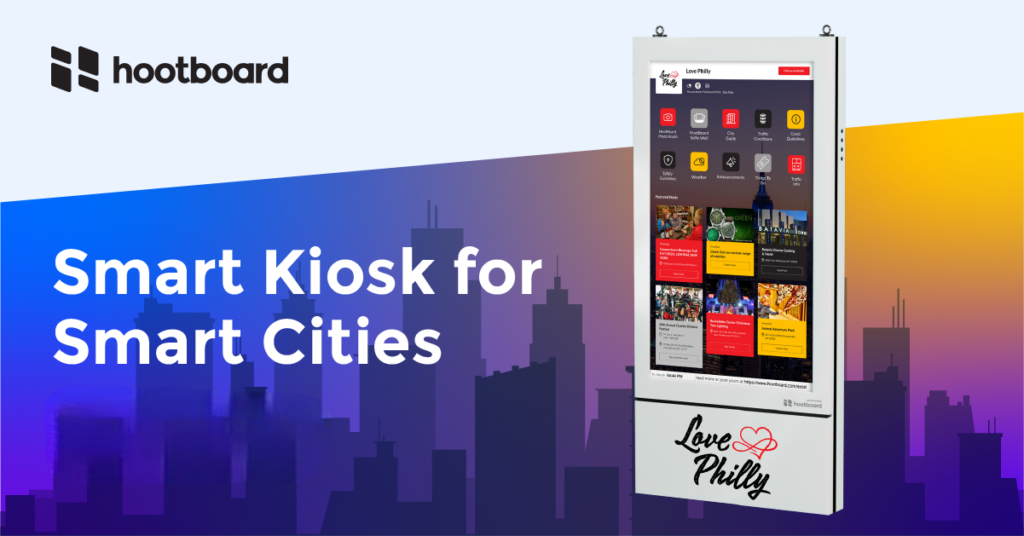 Types of displays and screens available
There are different types of digital signage depending on the size and location. Large screens such as those at airports and shopping malls (and even some outdoor screens) can be an LCD or LED which is powered by a media player. The display interactive screens will be connected to the internet and controlled through a user interface panel like a kiosk, smartphone app, or another device to make changes easily and quickly. These larger screens might not need anything more than a wireless (or wired) internet connection to operate.
For smaller displays that just show basic information such as menus, prices, hours of operations, or other transactional messages; there's an option for that too. Other options include interactive kiosks with a touch screen feature which acts as mini-computers where visitors can access different wayfinding options. Interactivity is the key factor here since you want visitors to have an easy time finding their location or contacting your business for any reason.
Therefore, businesses should choose the appropriate digital signage option that best fits their needs and the size of its location – this could be a touch-screen kiosk, a large LED display, or static signage. The right solution will depend on the number of displayed messages, traffic flow, how often individual devices are replaced/updated with new information, ease of use by employees to access the content management system without technical difficulties, budget limitations, etc.
It's also worth mentioning that using an interactive touchscreen kiosk will help connect with customers directly because it can provide a quick response by having instant messaging capabilities which allow conversation in real-time.
Best practices for using digital signage in your Downtown area, Business, or Organization
There are many things to consider when trying to decide on the best wayfinding option for your business.
All businesses have different needs and objectives they want to achieve. Whether you're trying to enhance customer experience, boost your business visibility by advertising on public transportation or bus stops, attract customers through targeted marketing campaigns, simply keep people up-to-date with new information about the latest discounts/promotions, or increase sales through push notifications – digital signage can help accomplish that!
Using interactive touchscreen kiosks would be the most effective way of achieving these goals because it can deliver all of this information on top of traditional wayfinding functions. Even if you only need a small display on your countertop showing menus or prices, using an interactive touchscreen kiosk would still fulfill that purpose while also having additional functionality.
You don't need much space for the hardware; most displays are small enough to fit in a countertop or shopping cart. Digital signage is flexible and can be customized to fit any type of business (no matter how big or small they are)! This is because you can decide when certain things show up on your display(s) based on triggers like time of day, location data (i.e.: GPS coordinates), weather conditions, and more.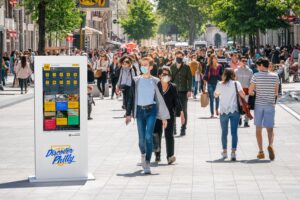 Digital Signage Wayfinding FAQs
Q1: What is Digital Wayfinding and how does it work?
A: "Wayfinding" is a term used in architecture, urban planning and design. It refers to the process of guiding visitors through an environment to their destination with the least amount of confusion and hassle. This can be done through wayfinding signage such as directional signs, maps and directions posted around the environment itself.
Q2: What is a Wayfinder?
A: "A wayfinder is any object that helps you navigate through an unfamiliar environment with ease." When it comes to digital signage, a Wayfinder can refer to either a large touchscreen display or a smaller individual interactive kiosk. Each has its benefits and can be useful in different ways. If you want the option of creating hard-copy wayfinding information (i.e.: directions, maps, etc.) then larger touchscreen displays would be more suitable; if you only need to interact with visitors through basic push notifications, then individual interactive kiosks might be a better fit for your business.
Q3: How can digital signage improve my business?
A: "Digital signage is customizable, flexible, affordable, easy to set-up and maintain, creates powerful experiences for customers/visitors – which can help increase customer engagement."
The use of digital wayfinding solutions makes it easier for customers to find the products & services they are looking for, especially when they are in unfamiliar environments. This can increase customer satisfaction which will help your business see an increased ROI. You'll want a system that works similarly to that of social media, because it'll be easier for people to use who already have experience posting content.
Q4: How much does digital signage cost?
A: "The price of digital wayfinding solutions can vary depending on your budget/needs."
For example, smaller interactive kiosks tend to run on the cheaper side, whereas larger large touchscreen displays have a higher price tag. It's your choice if you want to purchase one or more interactive kiosks or choose to go with a large touchscreen display instead.
Q5: What are some good examples of Digital Wayfinding?
Wayfinding signage has been around for many years now, however, it's important to note that even though traditional signage can be an effective wayfinding solution, it can still be improved upon.
The use of interactive touchscreen kiosks is quickly becoming the most popular digital wayfinding solution because they allow you to do so much more than just basic traditional signage.
How to choose the right signage for your space?
The first thing you'll need to do when choosing your wayfinding solution is to determine the areas or spaces that need signage. If you have multiple locations then it might be necessary to invest in interactive kiosks.
For example, if you only have one location and desktop monitors are sufficient then you can opt for traditional signage/desktop monitors.
Let's say you need a digital signage solution for your campus, entrance lobby, or other unique space which would be better suited to have individual touchscreen kiosks installed since it might be hard to hard-wire large touchscreen displays into that area. In this case, smaller interactive kiosks could come in handy.
Once you've determined what you need to do, it's time to look into your options. If you decide on interactive touchscreen kiosks, then you can get started by installing the digital signage software needed on your company's network and purchasing what you'll need to build out the technology in your space.
If you decide on larger touchscreen displays, then you'll need to know the dimensions of the area where it will be used, how many touchscreens are needed, and what is required for equipment.
Common mistakes made when choosing signage for your space
Many times, the customers don't know how to interact with the screens, so they just walk on by. Avoid this mistake by displaying the function on screen or having clear printed instructions available.
Backlighting can also help direct foot traffic in your space. Consider lighting up areas where customers need to go such as a specific area in a business lobby or where products are stored. This will make it more noticeable and increase your opportunity for visitors to follow signage when they enter an unfamiliar place.
Signs were bolted onto walls instead of being wall-mounted using a mounting system that lets staff take them down easily if needed without damaging the walls. Avoid this mistake by taking advantage of hanging hardware from sign manufacturers that can be installed in ceilings, walls or posts.
This mistake is common in display signs with multiple screens. If the staff is not regularly changing content then it can become stale and outdated, which will make it less effective.
Signs are not maintained regularly – if the staff doesn't regularly maintain signage this can lead to problems later when signs are needed for important messages. Avoid this mistake by using screen cleaners regularly to prevent dirt build-up on displays.
If you have large/multiple touchscreen displays in your space, make sure your maintenance company cleans the touchscreen regularly to avoid dust build-up or damage from liquid spills. You might also want to consider purchasing a touch cleaning pen for use by your team so they can wipe down the screens after each use.
You'll also want to make sure your touchscreen kiosk has a reliable connection to the internet. Many times a strong WiFi signal might not be enough, so a direct line is what is recommended.
Advertising and Generating Revenue with an Ads Feature
Did you know that some touch screen kiosks can also deploy ads on the kiosk? This is a great way to help finance the kiosk, or even becoming a serious revenue generating stream. This will help promote the local businesses and let people know that it is an option for high foot traffic areas. This can also be an added benefit to having wayfinding, as you might find new customers by providing ads on interactive touchscreens in your space. In addition to this, your customers might be more drawn to the advertisements on the kiosks. This could drive them into a purchase or at least give you information about what they are looking for.
Digital Wayfinding is Here to Stay
For future-proofing your area, choose interactive touchscreen kiosks for wayfinding to encourage repeat business and increase your bottom line. If you need help choosing the right signage solution for your space, we can help. Contact HootBoard today to learn how to future-proof your area with interactive digital wayfinding solutions. Stay ahead of the curve!
Schedule a Quick Demo Call