• Easily manage and add content from the cloud
• Ready to use. No custom development needed
• Sizes range from 32″ to 49″ to accommodate any setup
• Great for lobbies, break rooms, hallways and front desks
• Comes with 3 years remote support
Add your own background, logo and colors to reinforce your brand.
Switch into a calendar view to see upcoming events.
Go further with weather, a local map, customizable bottom ticker and more. *coming*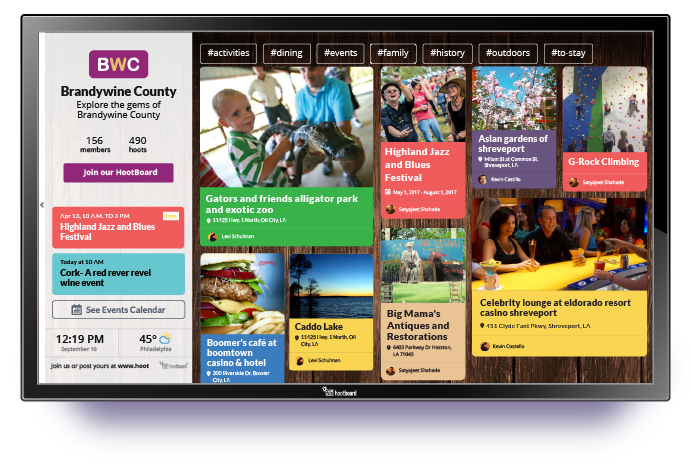 Create custom #collections on your board to easily navigate content. Use for different departments or categories like announcements, events, etc.
Tap into hoots for detailed views. Users can send info from the screen to their phones.
Each session and interaction is tracked so you can dig deep into the data for insights.
HootBoard kiosks are dynamic since they are easy to update remotely. Manage your devices from the cloud anytime and anywhere.
Updates can be made easily by multiple members from the web or mobile. Multiple file types are supported including PDFs, videos, images, slideshares and more.

Integrate HootBoard with other tools for auto-posting. Simplify your workflow and leverage other powerful apps.
Users can subscribe to your board or send themselves interesting content directly from the screen to take engagement even further.

Complementary mobile apps allow members to access the content anywhere, anytime.

Add your board to your website or integrate with your existing systems via our API.

Subscribers of your board can opt to receive daily and weekly email newsletters and push notifications.
Power cable, Vesa mount and remote control. All units come with 1 year warranty and 3 years customer support.
What type of content can be added?
A lot! We support pdf's, jpeg, pngs, videos from sites like YouTube, slideshare links. Also, ask us about integrations so you can auto-post to your board.
What happens when it's in idle?
We have various options on what the screen does when it's idle. We'll also be adding a power saving mode in the future that powers down the display based on a schedule.
What else do I need besides the hardware?
Need high speed internet and a hootboard subscription. We recommend hard-wiring but it does work off of Wifi
Which way can I orient the Air?
We have an interface that works for both portrait and landscape.
I have my own hardware. Can I use HootBoard?
Yes of course! Reach out to us and we'll provide some instructions on how you can setup our software.
All updates are for free. For ever.
3 Year Remote Support included.