When we released our HootBoard Information Kiosks platform to our earliest beta customers, we promised that it would be super easy to update their kiosks. This could be as easy as posting from their mobile phone much like a facebook or a twitter update. And we delivered. HootBoard is the first and the only information or concierge kiosk platform that allows communications managers and its other customers to simply post from mobile and web.
What we didn't mention is that we were already working towards a day when you don't even have to do that little bit of work. Things will just magically happen. And we are happy to announce that the time has come.
Now HootBoard concierge kiosk, employee or student information kiosk customers (and other HootBoard users) can connect their accounts to over 1000 different applications and platforms to add content to their HootBoard information kiosks and concierge kiosks. And we are able to do that thanks to our newly minted partnership with Zapier – a platform that connects various application APIs.
For the uninitiated, an API or an application programming interface is how applications talk to each other programmatically. This is exactly how Amazon's Alexa is able to tell your light bulb to turn on or ask Pandora to play music.
Over the last few years, Zapier has built an amazing network of API's so that applications can easily talk to each other and users like yourself can benefit. And we at HootBoard are glad to be a part of this network.
So what can I do with HootBoard + Zapier?
The possibilities are endless. Whether it's bringing your social media posts onto your HootBoard information kiosks, publishing project updates from your favorite project management tool or publishing your next event when its setup on EventbriteTM, the choice is yours really.
As you already know, everything on HootBoard is driven by Hoots and Collections. With our Zapier partnership, you can have your personal account automatically post a hoot onto HootBoard concierge kiosks and it can be automatically be added to the right collections. With this, all your kiosks, kiosk applications, digital signage and web embeds that are tied to a particular collection are automatically updated. This is true power at your fingertips, we trust you will use it wisely ;).
To help you get started, we already created a few Zap Templates for your convenience. Go ahead give them a spin.
Will this cost anything?
Zapier integration is automatically accounted in your engagement based pricing on the HootBoard end. Every post made via. Zapier, will be equivalent to one "Hoot Posted" event in our engagement pricing model. As you might already know every HootBoard has 1000 free engagement units that are replenished every month. Here is more information about HootBoard pricing. For specific pricing for your HootBoard type, see the pricing page under your HootBoard (Admins only).
Zapier graciously provides a free tier for all its users which you can start with. If you add multiple integrations, you can upgrade into one of their paid tiers. Zapier pricing information is available here.
How to use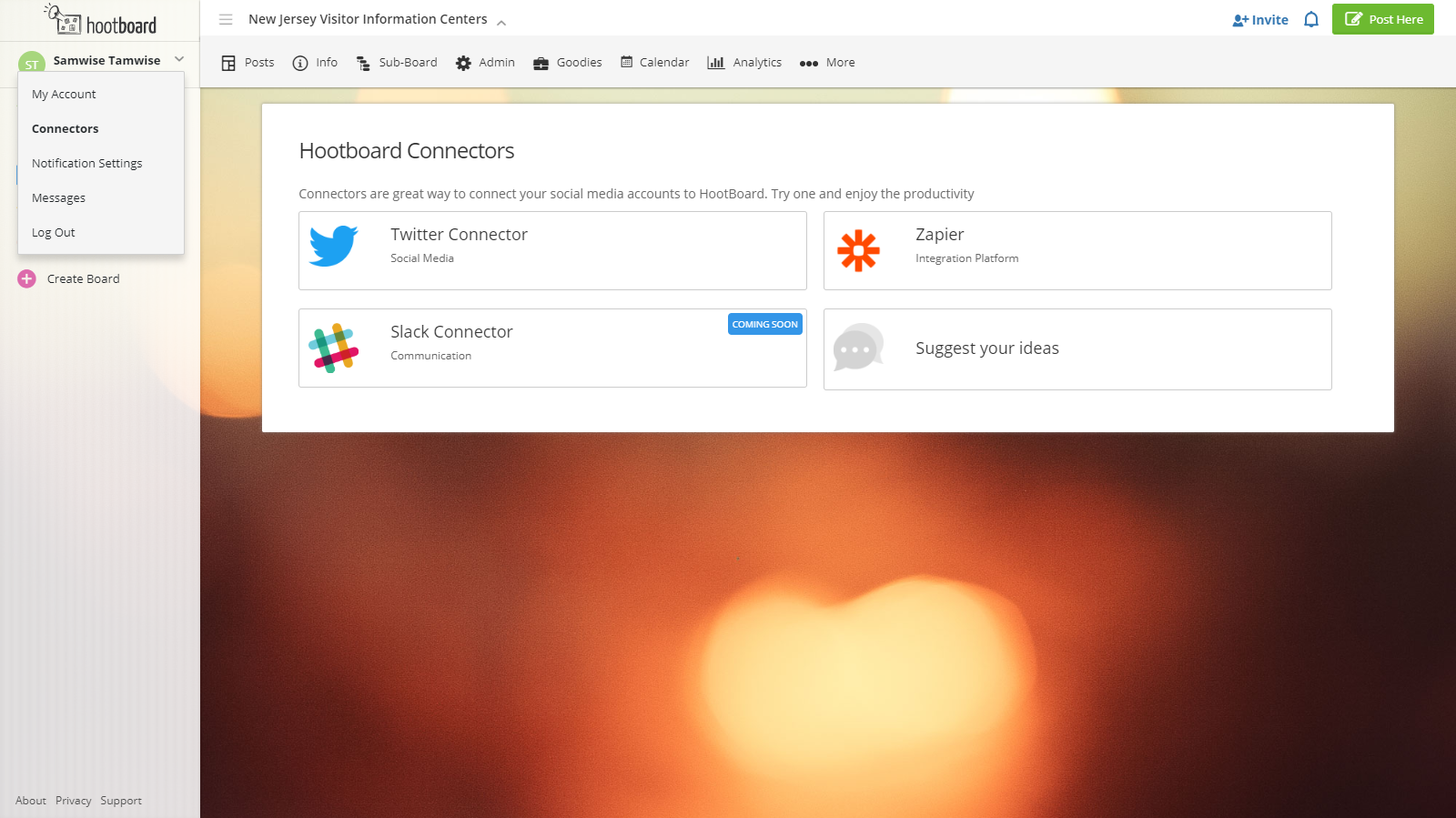 Using HootBoard integrations via. Zapier is easy. Simply, go to Connecters under your name on HootBoard (See image above). From there click on Zapier. You will see our Zapier connectors page which will give you links to some of or most common integrations via. Zapier. However you can always create your own Zapier integration by clicking the HootBoard on Zapier button. If you are new to Zapier, we have found this video to be very helpful. Finally, more help is available via the Zapier help docs here.
Alright then, what are you waiting for? Let's go create zaps to post hoots on your HootBoard. Okay, maybe we need another post for all the funky terminology we talk about here. Ciao for now. But do email us at support@hootboard.uservoice.com if you need help.
Disclaimer – All product and company names are trademarks™ or registered® trademarks of their respective holders. Use of them does not imply any affiliation with or endorsement by them unless otherwise stated.