One of the best parts of working at HootBoard is the opportunity to connect with a wide variety of companies and organizations doing great work across industries and around the world. We love being inspired by passionate teams, revolutionary ideas, and amazing processes that come from companies big and small and HootBoard has allowed our team to meet people we would have never had a chance to meet otherwise and we're excited to extend that experience to you! That's what HootBoard is all about after all – giving organizations a new avenue through which to share their story and their accomplishments. Today's HootBoard story: Watchbox who has used HootBoard to both strengthen internal communications and to make an impact in their customer communications at retail!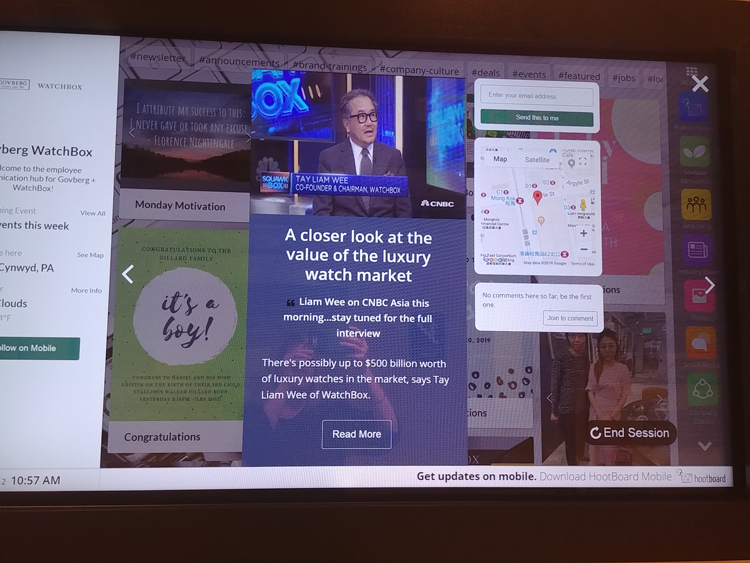 Tell us a little about your company!
WatchBox is the world's leading ecommerce platform for the buying, selling, and trading of pre-owned luxury timepieces; fueled by technology, innovation, and unmatched global experience in the high-end watch market. WatchBox has private showrooms and buying offices in Philadelphia, Hong Kong, Switzerland, and South Africa. Watch brands include pre-owned Rolex, Cartier, Panerai, Patek Philippe, Hublot, Audemars Piguet, Jaeger-LeCoultre, Breitling, OMEGA and many more.
Just recently, Internet Retailer recognized WatchBox's remarkable growth. "Internet Retailer's 2019 Top 1000 found that luxury resale retailers are a fast-growing bunch. WatchBox, No. 299, grew the fastest online of the five Top 1000 retailers that sell used luxury goods."
WatchBox is a company on a major path for growth and we work to make sure that our employees embrace and exhibit our core values: Innovation, Extreme Ownership, Grit, Loyalty, and Collaboration. We're working to be the largest global buyer, seller, and trader of luxury pre-owned watches and to do so, we know that we need to thoughtfully embrace technology as well as constantly work to welcome change and consumer needs.
How do you use HootBoard?
Initially, we added Hootboard as a vehicle for internal employee communication – an electronic bulletin board if you will. We use it to post media coverage, company events, special visitors, birthdays, anniversaries, special celebrations, Monday motivation, etc. We have different locations throughout the globe – 3 locations in Philadelphia, Hong Kong, Switzerland, South Africa, and we're still growing. We wanted the employees in the different locations to feel "connected" to what's going on in Headquarters, and vice versa.
We've also used it in a few retail locations where we are an Authorized Dealer inside of those retail locations. We use the HootBoards to promote events, send messages, and to be an online kiosk for customers to browse the WatchBox inventory online, etc.
HootBoard has been an easy way to inform and engage employees but visitors to our office also love seeing the posts on our HootBoard.
How does HootBoard help your company solve problems/meet goals?
HootBoard helps us to promote communication and transparency which are incredibly important to the organization. HootBoard is a great tool to keep our employees informed and engaged and ties back to our core value of collaboration.
What advice do you have for others considering HootBoard?
Go for it! HootBoard is a great communication tool – more than we even use it for currently. Easy to use. Easy to set up. Great support. The HootBoard team has been responsive, informative, and helpful… Everything we ever need, Jose finds the answers for us. Jose (Larin) who has been AMAZING to work with.
Thanks to WatchBox for telling their story and for being a valued member of the HootBoard family! We love seeing HootBoard used in new and exciting ways and we're always willing to try out our kiosks in new ways. Want to try out a HootBoard in your space? Reach out for a demo or a free trial! Want to tell your own HootBoard story? Drop us a line – we'd love to hear how HootBoard has helped your organization!