Reviewing this  Research Paper
Airbnb did a great job putting together some great questions a destination needs to ask itself. We anchored the part of the research paper that we feel is worth taking a closer look at and sharing it with you. Have you gone through these questions and provided a specific answer to each one? This might make for a great office exercise for everyone to try and remember what the objectives and goals are for the location. Even if you've gone through an exercise like this, it couldn't hurt to do a refresher. Maybe Airbnb is asking a few questions that weren't considered in your first go-around. 
 #1 – Insight: Identifying the Right Questions to Ask 
The beginning of creating any strategy for any destination is to truly understand who visits your destination.
"The question each potential destination should ask themselves is not what local people like, but what the visiting international customer would enjoy." Jordi, Airbnb Superhost, Can Morei Cottage, Igualada, Spain
Keep this document available, and review it often. These questions offer a great opportunity to help spark new discussions. It also can work as a reference that everyone can return to in case vision has been lost. Keep track of the questions that you are working to answer, and by proxy, you'll keep track of the needs you are trying to fulfill. This will help maintain a laser sharp focus of the overall goals.
#2 – Insight: The Conversion Funnel
Are you familiar with your conversion funnel? Here is an example provided by Airbnb. They go into greater depth.  You'll also want to know the specific online metrics used to demonstrate value. If the goal is to get repeat visitors who then turn into superfans, you'll want to keep track of where those people are in the funnel. Some might be a first time visitor, while others are overnighters. Each segment may need their own content experienced based on their segment. This will ensure that they are getting the best information that will provide them with a better experience.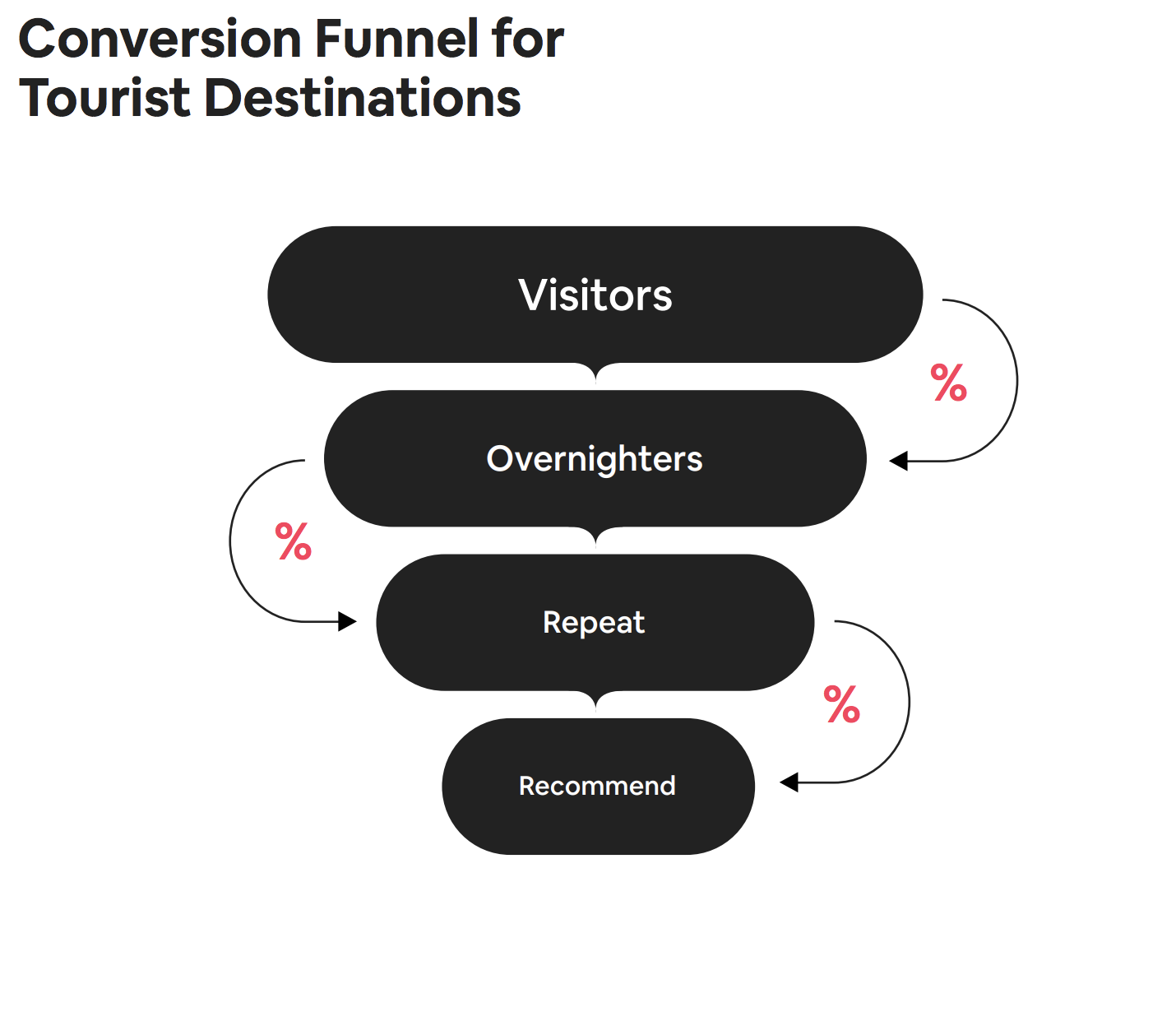 #3 – Insight: Measuring Progress
Finding metrics to measure your progress is an important part of promoting your destination. The article covers many insights around this, but these are the points highlighted.
General Destination Metrics
Number of visits recorded over a year: How many people visit the destination for leisure or business, with and without overnight stays.
Number of nights recorded: Differentiating between day visitors and overnight tourists. Additionally look at if lodging offered is suitable, fairly prices, and any additional services are sufficient.
Number of return visits by tourists: This measures the degree of loyalty tourists have to a destination, and is also a good measure of the tourist satisfaction with the value provided by the destination.
Social recommendations from visitors: This metric can be reinforced with visuals that remind people of social media and hashtags that can be used when up

 
The rest of the paper covers many more metrics. 

Conclusion 
These are just a few of the insights and discussion points brought out in the article. We highly recommend you do a deep dive into the insights and find your own conclusions. As for us here at HootBoard, we can see the importance of creating opportunities for visitors to share a moment, enabling a destination for repeat visitors, and engaging with collaboration with partners and stakeholders. HootBoard can play a role with each of these insights. We would love a chance to show you how. Reach out to us today and we can set up a FREE demo.